Going Up?
By Zehnder
Monster Palm Entertainment, 2008
Review by Carl McColman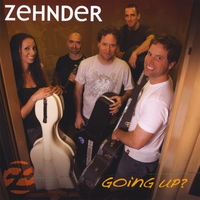 A generation ago, Christian rock pioneer Larry Norman plaintively wondered, "Why should the devil have all the good music?" Those of us who were around when Norman was in his prime — and who have watched Christian music evolve from the naivetë of the early "Jesus Music" years (think 2nd Chapter of Acts and early Phil Keaggy), through the awkward adolescent years (Stryper!!!) to the perfectly enjoyable if more predictable than exciting adult-oriented-rock sound of today's bands like Kutless, Third Day and Switchfoot — might paraphrase that question today as, "Why do the conservatives have all the good Christian music?" You know, I like artists like Amy Grant, Rebecca St. James, and Sara Groves just fine — but beneath their conspicuously apolitical music is a genre that, at least by its consumer demographics, seems pretty much a Republican bastion. If guys like Norman and Keaggy and Randy Stonehill and Keith Green managed thirty years ago to wrestle the good music away from ol' Mr. Scratch, then who is going to snatch today's faith-based music from its right-wing ghetto?
The answer, I believe, is Tim and Tom Zehnder.
These brothers are in the music ministry business — you can find them most Sunday mornings leading the worship at Immanuel Presbyterian Church in Los Angeles. But they're also the leaders of a band that bears their last name, which just released a CD called Going Up? featuring 45 minutes of joyously infectious — and unapologetically progressive — faith-based music.
So Tom plays the guitar and has a voice that is eerily similar to Sting's. Tim plays the bass and his vocals sound like what Sting's brother would sound like, if Sting has one. Their music — mostly self-penned — covers a wide sonic palette, with different songs on this album encompassing folk, traditional, rock, even a bit of reggae and country and artsy experimentation thrown in. If I had to compare them to other bands, I'd say Poi Dog Pondering meets Fairport Convention, with a little bit of acoustic jamming and plenty of Jesus mixed in.
Even though songs like "Shepherd's Alleluia," "Holy God, Creator of All Life," and "What Wondrous Love is This" would not sound out of place on a mainstream praise anthology, this is not your run-of-the-mill Christian music disc. For one thing, songs like "I Believe" and "Spirit Born" (a meditation on doubt and a playful retelling of the Nicodemus story, respectively) are not afraid to take risks with looking at religion from unusual angles, while "Justice Jam" and "One Fluid Flow" make it clear that the brothers Zehnder have a clear sense of the gospel as having more to do with community renewal than private piety. Meanwhile, my two favorite tracks are "Everybody's Singing Now," which turns the Emmaus story into a joyful anthem of celebration; and "Breathe In, Breathe Out," which proclaims the serene goodness not only of contemplative spirituality but also hints at a gracious hospitality toward non-Christian mysticism as well. "Shalom, salaam, namasté; ancient the paths, we find a new way / to be one in spirit, mind and body this day… this day… this day…" Amen!
If I had to summarize what I love about this album it would be this: that Going Up? shimmers with the excitement that most contemporary Christian music sorely lacks. So buy this album — not only will you play it again and again over the next few months, but I'm willing to bet you'll still be listening to it a decade or two from now.
And if you're anything like me, you sure can't say that about Stryper.