This video by Oren Lavie has been watched almost ten million times, so I imagine many of my readers will already be familiar with it. But I just discovered it this morning, and it seemed worthy of passing on.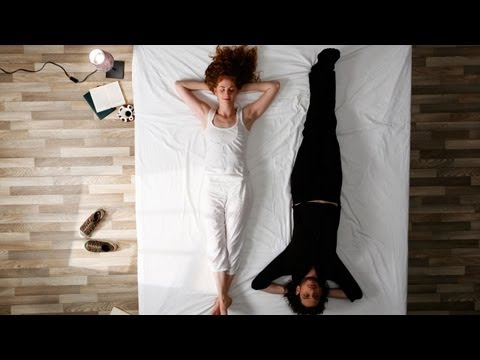 I am reminded of the passage from the prophet Joel that we used to quote to each other all the time back when I was immersed in charismatic spirituality:
Then afterward I will pour out my spirit upon all mankind. Your sons and daughters shall prophesy, your old men shall dream dreams, your young men shall see visions; Even upon the servants and the handmaids, in those days, I will pour out my spirit. And I will work wonders in the heavens and on the earth, blood, fire, and columns of smoke; The sun will be turned to darkness, and the moon to blood, At the coming of the Day of the LORD, the great and terrible day.
Okay, so the video is about a young woman sleepwalking, not an old man dreaming dreams. But I've never been afraid to reach for a connection. Here's the question: what dreams are you dreaming? If you hang out at this blog, I suppose that means you are interested in the spiritual life, in some form or fashion. Where are your dreams taking you, spiritually? How does your spiritual practice show up in, or influence, your dreams?
And not just the dreams of sleep, either. When "the young men see visions," I believe we should assign the most mundane and down-to-earth interpretation to this verse: through the splendor of inspiration, our imagination, our daydreams, and our capacity for wonder and hope and new ideas are all set on fire. As Peter Gabriel sang in his song "Mercy Street" inspired by Anne Sexton: "All of the buildings, all of those cars, were once just a dream in somebody's head." So if we take Joel at his word, there's a level on which the spiritual life is about opening our hearts and souls and minds to the Spirit who will lead us to dream new dreams and envision new possibilities — but then it's up to us to shake the dreams and visions loose from our heads and to make them real. Hopefully we're talking about something other than just more buildings and more cars. I dream about people, hundreds of people, thousands, millions, finding joy and meaning and love and connection through silence and rest and community. I dream about us feeding each other and caring for one another and sharing our resources. I dream about songs of prayer and joy and laughter and delight ringing through heaven and earth. I dream about a world where the latest gadgets or the evening stock reports aren't nearly as interesting as the latest efforts to create green, sustainable technology or the newest initiative to clean our air and our water and to find new ways of relating the human family to the rest of the earth.
What are your dreams? And how do you see those dreams flowing from the safe harbor within you to the world where they can be given to others?
Happy new year, everyone. May 2010 be a year of wonderful dreams come true.