I am sad to have learned of the passing of Fr. Emmett Jarrett, TSSF who died on October 9 from cancer. I met Fr. Emmett in 1995 when his church, St. Michael and All Angels in Stone Mountain, hosted a "Lenten Oasis" event featuring one of my heroes, the Anglican theologian Kenneth Leech. I learned that Fr. Emmett and Fr. Ken were good friends, as Emmett had studied under Ken some years back in London. From that event, I developed a warm acquaintance with Fr. Ken (who recently was kind enough to endorse The Big Book of Christian Mysticism), but also began to meet with Fr. Emmett for spiritual direction, a relationship which continued until 1999, when Emmett and his family moved to Connecticut to create an intentional community based on Franciscan spirituality and devoted to work for peace and justice.
What this means is that Emmett had the rather thankless task of providing me with spiritual guidance during the time when I was growing increasingly alienated from the Episcopal Church — and increasingly drawn toward Neopaganism. Emmett was very gracious to me as I would come in to his office month after month and basically detail all the reasons why I was becoming increasingly unhappy in the church. Toward the end, little more than politeness kept our conversation together. I projected onto Emmett my conflict about the church, and became increasingly guarded as I expected him to simply disapprove of the choices I was making. Meanwhile, I suspect he may well have come to regard me as just another self-involved middle class white guy who would rather save a moth or a snail than help people who were hungry (he never said as much to me, so this could be my projection as well. That's just the sense I got from our conversations). But he remained kind toward me no matter how at odds our ways of looking at things seemed to be, and we did not formally end our spiritual direction relationship until he moved.
Emmett put me on his mailing list after he moved to Connecticut, and I admired his courage and vision to engage in work with the forgotten members of his urban community while building a genuine community of hospitality. Every now and then we would trade emails, and when I found my way back to Christianity and began working on what would become my Christian mysticism book, he very generously responded to a number of questions about mysticism and the Christian life that I sent his way. I quoted him on page 122 of the book. I told him I was using that quote, and he seemed a little embarrassed, for among other things he said "I'm not sure what mysticism means anyway." That didn't bother me, since I'm not sure what it means (and I wrote a book on the topic!) — but I liked what Emmett had to say, because he saw mysticism as subject to an overall life in Christ that is geared toward both personal and social relationships. In other words, true mysticism is always about "love your neighbor as yourself" as much as it is about loving God. Hopefully I was able to convey that message throughout my book; and I credit Emmett, and Ken Leech, as being the first mentors to really communicate that foundational truth to me.
Although I never saw Emmett again after he moved, I learned from Ken this summer that Emmett's cancer (which he had been fighting since 2008) was terminal. Immediately I called Emmett, and we had a lovely conversation. I was struck by the authentic serenity I could hear both in his words and his voice. I pray that I will be able to face my own death, when it comes calling, with such grace.
If you'd like to learn a bit more about Fr. Emmett, you can read his obituary. Also, watch this little video from a peace rally in 2007, where Emmett (in his clerical shirt and wearing a baseball cap) speaks briefly but eloquently about the promise of the nonviolent vision.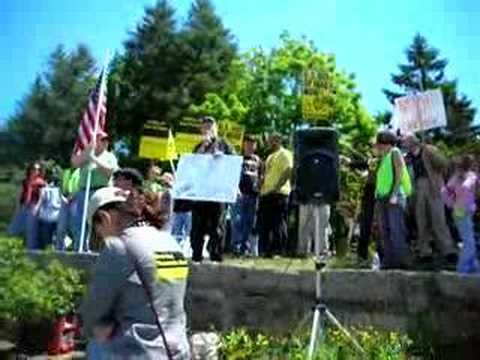 Rest in peace, Fr. Emmett. Thank you for your witness.