Last week two monks of the Monastery of the Holy Spirit had birthdays. Father Anthony (who is the monastic advisor to the Lay Associates, of whom I am a member) turned a mere 83. But Father Luke, our last surviving founder (he's been at the monastery since it was established in 1944) turned 100!
Needless to say, the monks have been celebrating, and on Sunday at our Lay Associates' Gathering Day, we treated these two elders to a cake & ice cream party. Here's a little video showing Father Luke blessing the cake, blowing out the candles and cutting the cake.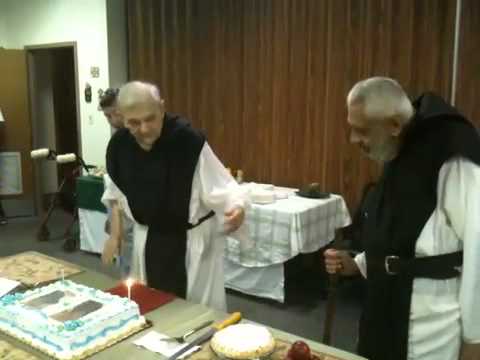 I know some people think of monks as overly solemn men who never smile because they're so busy with their penitential praying. But that's not what I've seen — of course, these men take their faith seriously, but it's a seriousness borne out of a basic sense of happiness and joy. I hope this little video communicates a bit of that spirit.