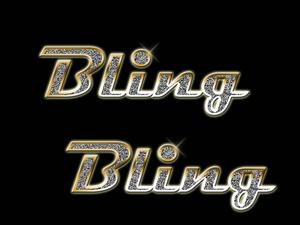 Bling is a very popular item these days. Bling is a catch-all phrase for all things sparkly.  Rappers and celebrities may have started the craze, but now everybody has gotten on board. Dogs have collars with bling, and cats have jackets trimmed in bling.  Whether dazzling stones are dangling from ears, wrists, lapels or fingers, they create excitement, euphoria and bliss.
I am also a fan of bling. For me, bling has another meaning; it is an acronym that makes life awesome in awful situations. Bling means; Boldly Living in Never Ending Grace. Grace is God's unmerited favor that we do not deserve, nor can we earn. Rather, Ephesians 4:7 tells us, "But to each one of us grace has been given as Christ apportioned it." So grace is a gift that when received transforms the way we conduct ourselves.   With grace, a silver lining is found in the cloud. With grace, the purpose and even the plan of the pain becomes clear.
I embraced this type of bling at the beginning of my cancer battle. Upon diagnosis, like many, I was deeply depressed. (Yes, some believers do experience depression in the face of life threatening illness.) While depressed, I dressed like I felt, sad, solemn and dismal. I stopped caring what I looked like. I figured, since I was going to die- why bother?
I can testify that God will find you in the deepest valley of your despair and turn your life around. That's what happened to me. God found me and reminded me that I am one of His, and that power from Him entitled me to joy in the midst of hard times.  In other words, if I truly believe, then I should act like and dress like I was already a conqueror. So I did.
I decided to release the fear dying from cancer, and embrace the boldness of God's grace in order to starting living.  Bold living in the midst of the cancer battle meant holding my head up when I wanted to cower and cry. Bold living meant choosing to remain a part of activities rather than opting to sit and be a spectator. Bold living meant dressing like I was going to a fashion show, rather than a funeral.
If you or someone you know is in the midst of the battle with cancer, tell them to bling their way through. Boldly live right now in Jesus' name. Get out of the dark corner of despair.  Grab hold of God's grace that is right in front of their eyes.  Experience joy and peace in the midst of pain and sorrow.