Vanessa Williams sang this rafter-raiser at Sargent Shriver's funeral this morning — a mass celebrated by Washington's Cardinal Wuerl at Our Lady of Mercy Church in Potomac, Maryland (which, by coincidence, happens to be where my wife attended grade school, and where the funerals for her grandparents were held.)
Here's a jubilant rendition of this Andrae Crouch classic.  Sing out, clap, and let the spirit move you.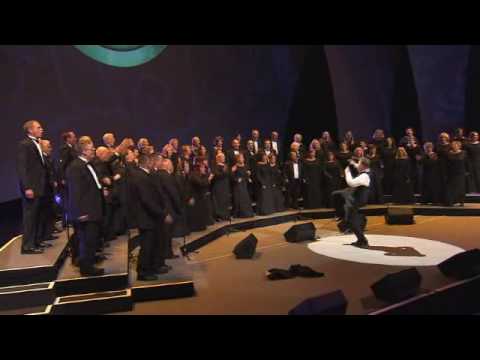 Meantime, there's this  insight into Shriver's Christian faith, from his biographer:
The root of Shriver's self-conception was as a lay Catholic who always tried to model his life after the ethics of Jesus as expressed in the Gospels. This has not been a passive pursuit. Always he was asking himself, Am I living my life as Christ would want me to?

What he derived from his faith was less the solace of Lord's presence, or the promise of transcendence in the hereafter (though he did derive both of those qualities from his faith) than a kind of mobilizing vision for action here on earth. It is telling that in the 1930s Shriver invited Dorothy Day to speak at his undergraduate institution, Yale. Shriver's Catholicism was in some ways analogous to Day's: rooted in the ethics of the Christian Gospels; dedicated to working toward peace, social justice, and redemption of suffering here on earth; and concerned especially with the easing the plight of the poor and the disabled.

In some ways, Shriver and I were as different as can be: him an optimist about human nature, me a pessimist; him devoutly faithful, me a struggling agnostic. But I am nonetheless unequivocally sure of two things. First, if there is a heaven, Sargent Shriver is on his way there now–or no one is. Second, even if there is no heaven, his legacy of good works here on earth is an inspiration and a goad for all of us to do more and better.
And Ross Douthat concludes:
Every Christian doesn't have an obligation to imitate Shriver's particular approach to politics, and indeed I'm glad they don't. But no one can deny that his liberal Catholicism was a Christian politics: Admirable, comprehensive, and at the test, consistent.

That test was abortion, where Shriver was one of the few Great Society liberals to remain a pro-life liberal as well. He was the last abortion critic to find a place on the national Democratic ticket, and together with his wife, Eunice, he endured as the embodiment of a liberal road not taken on that issue. For that, as for everything he did in public life, he will be sorely missed.
Amen.