Okay, so Lady Gaga is bald.
Last Friday night, she appeared on the Paul O'Grady show with a meticulously shaven dome. Seated at the piano, one of her wigs set before her on stand, she serenaded it with — what else? — "My hair."
I'm disappointed. It's not that I feel any particular attachment to Gaga's hair — with all her wigs, I doubt I've been privileged to lay eyes on it. It's not that the look doesn't become her; it's actually pretty cute. No, what leaves me feeling shortchanged is that the look's been done and overdone. Thanks to Sinead O'Connor, Erykah Badu, Demi Moore, Megan Fox, and yes, Britney Spears, a woman who shaves her head is no more a pioneer than anyone who settled in St. Louis, ca. 1975.
The look has reached all the way down to the Applebee's crowd. Not infrequently, some radio station will host an event where people — many of them women — shave their heads to raise money for cancer research. This woman had hers shaved in exchange for a pair of Kenny Chesney tickets: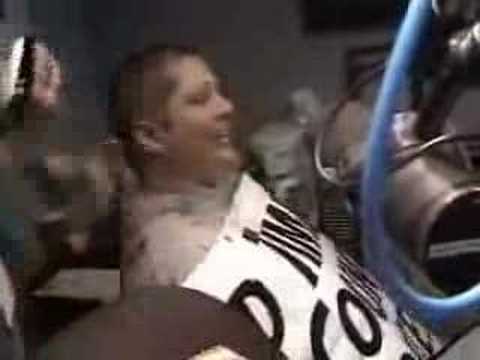 Now, granted, when it comes to musical themses, Lady Gaga's never been above borrowing — least of all from Madonna. The Jesus-imagery in the video for "Judas" looks like an homage to "Like a Prayer." The Latin guitar strummy sound in "Alejandro" was straight-up "La Isla Bonita." But for Pete's sake, when it came to her personal appearance, I really thought I could count on the girl to shock me. The meat dress? Well done, thou. The Coke cans in the hair? Brava.
I pray I'm missing somee ironic message. The Huffington Post says no. Its editorial staff say that Lady Gaga's baldness is a stab at sincerity.
With her "Born This Way" single and publicity campaign, Gaga has signaled again that she seeks to win, for herself and every other misunderstood soul, a normal, accepted human existence, regardless of gender or creed or, especially, sexuality. Her passionate speeches for LGBT rights, as well as her non-stop inspirational tweets, place her at least in the close exurbs of the mainstream, stripped bare of at least some of her eccentricities in favor of sincerity.

In that vein of stripping down from pretense to prove that she's human, Lady Gaga went bald in a "Paul O'Grady Show" performance for her stripped down new song, "Hair." Perhaps it is only a fashion statement, but given the song title, it's unlikely, as she filled her piano top with wigs and took her own piece off halfway through. Perhaps she's saying something about shedding that skin, that costume, that barrier that she created with all of her vaunted costumes — at least so that people know what she is inside before putting it back on.

The lyrics provide hints about that struggle; it seems that she's trying to prove that her hair, her costumes, her persona are normal. So by taking it off, showing the world her insides, she's proving her mainstream credentials, while still maintaining her built-up image.
Bother that. If I wanted to see human beings, I'd leave the house once in a while. From Lady Gaga, I expect not nature but artifice — transcendent and weird. Lady Gaga, if you're reading this, please consider transplanting a bonsai tree onto your scalp; I'll offer my apologies, along with a nice watering can.
UPDATE: Turns out Gaga didn't shave her head after all; she was wearing one of those flesh-toned skull caps. Now THERE'S the artifice I'm looking for! Well played, Gaga!