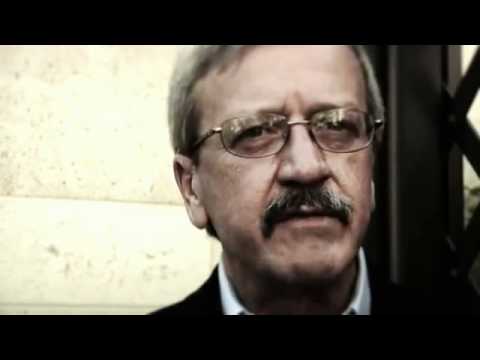 For a while there, it looked like the Cain campaign bus was headed for a Passenger 57 moment. No, I don't mean doubters would soon be given to understand that they should, in the words of the Wesley Snipes character, always bet on black. Rather, there emerged the possibility that the candidate would seize each and every one of us bodily and force us to repeat, "Herman…Cain…is…not…insane."
The most compelling sign of madness was the minute-long TV spot featuring Cain campaign manager Mark Block. Block is a wooden speaker, and worse, a shabby-looking man. With his glasses, mustache and formless coif, he looks like — and might in fact be — the "real square cat" from the Stray Cats' "Rock this Town" video. Strangest of all — to many — Block ends his pitch by dragging on a cigarette and exhaling in the direction of the camera.
Jon Huntsman's daughters have spoofed the ad, and brilliantly. Really, wouldn't it have been nice to see kids this clever on magazine covers for the next four to eight years?
But much as I wish I could laugh along with the Huntsmans, this is a wedge issue. Since St. Patrick's Day, 1988 –when I was 16 — I've smoked two packs of cigarettes a day, sometimes three on Sundays. I consider myself very dedicated; not even illness or family tragedy has caused me to slacken. If I can't buy, I bum. If I can't bum, I snipe. I can smoke a Pall Mall 100 from tip to filter without once touching the thing with my hands. Whether I take pride in the kindship or not, Mark Block is one of my people.
So, I thought, might his candidate be. Cain began an interview with CBS host Bob Schieffer by saying he thinks us smokers should be ourselves. As Matt DeLong reports in his Washington Post blog:
"One of the themes within this campaign is let Herman be Herman," Cain said. "Mark Block is a smoker, and we say let Mark be Mark. That's all we're trying to say, because we believe let people be people."
Schieffer, a survivor of bladder cancer, which he puts down to smoking, accused Cain of glamorizing the habit. Cain promptly flip-flopped, assuring Schieffer he respects his opinion. Though Cain added, truthfully enough, that there's no chance of making the ad disappear now that it's gone viral on the internet, he curried favor with the pronouncement: "Smoking is not a cool thing to do."
Thanks a bunch, Herm. I thought you were a libertarian. I expected you to say, "Don't like smoking? Move to Europe — specifically, to one of those countries in Western Europe that has a strong national ban in all public places with some exceptions." Then, I hoped, you'd air a new campaign spot, where a former smoker, hounded by society into dipping Kodiak, deftly switches his Thirstbuster cup with that of a caviling busybody.
But no, Herm, you had to back off the whole premise and play to the center. I swear, you're starting to sound more like a seasoned politician every day.