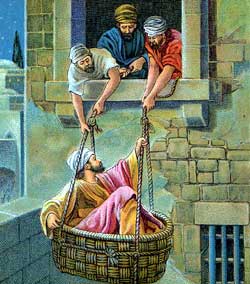 T. C. Robinson posted a couple of suggestions on his blog of things that wished I had said about Paul in a recent post, but did not
. One was the "new perspective" on Paul, and I was rather astonished to discover that I had not really addressed that topic here on the blog for several years! So for now, let me link to the only two posts I found of mine that focus directly on the topic –
one about "mirror reading" the "works of the Law,"
the other
responding to an article by Simon Gathercole on the subject
. And in the near future – when I get to Romans in my Sunday school class in a few weeks' time, if not sooner – I will try to address that topic more directly.
The second subject T. C. mentioned was the use of Acts as a source of knowledge about Paul. Largely because I was addressing the use of Paul by
mythicists
(a conversation that is continuing
here
and about which I'm bound to post something again soon) I focused on Paul's letters, since they are our earliest Christian sources and give us Paul in his own words. Acts has to be used with caution, and we cannot assume that Acts always views Paul in the same way that Paul viewed himself, nor had the same theological stance as Paul, never mind the question of whether the information in Acts is historically reliable in various places.
But that having been said, the evidence of Acts is very important for discussion with Jesus-mythicism, because it is the second volume of a two-volume work that also includes a story of Jesus. And so unless we want to argue that Luke was right about the historicity of major characters in his second volume, but completely wrong about the historicity of the main character in his first volume, then Luke-Acts provides yet another bit of evidence for the historicity of Jesus.
If we're honest, if we only had Luke's account of Paul being lowered over a city wall to safety, we'd treat it as a fantastic bit of hagiographical fiction. But Paul himself confirms that such an event happened (
2 Corinthians 11:33
), while providing enough different details so as to make it unlikely that Luke is simply deriving information from Paul's letters. And so Luke can be shown to preserve a grain of historical reminiscence even in a story about which we'd naturally be skeptical.
If I can find the time, and if it seems like it might be worthwhile, I may write a post about "mythicist miracles" in the not too distant future. Mythicists often point to discrepancies and errors in support of their view of the Gospels as fictional allegories. But historians are used to finding such errors in sources that are nonetheless of some historical value. But if we reverse the angle from which we look at these sources, it becomes easier to understand why historians view them with skepticism but not usually a complete rejection of their historical value. If we were dealing with sources that drew on no historical reminiscences of events in first century Palestine, then we would be dealing with something rather "miraculous" – authors in another time and in other parts of the world than that in which the stories are set, who managed nevertheless to get significant information about that time and place right in the absence of either oral tradition or written sources that preserved it.
In the modern era, it has become possible to situate a fictional story in a real place and, through research, get some names and descriptions right – Bram Stoker's Dracula is an example, being set in Transylvania, a place Stoker had never been (but where I, on the other hand, have spent a significant amount of time and never encountered a vampire, unless you include the rather ferocious mosquitos in Oradea). To do that in the ancient world, without the same sort of access to libraries and reference works, would be quite a feat. And so once again, we have to ask about the balance of probability: Is it more likely that someone writing later on the basis of hearsay and oral tradition got numerous things wrong, or that someone writing pure fiction managed to set the story in the past and get as many details about places and political realities right as the Gospel authors seem to have?