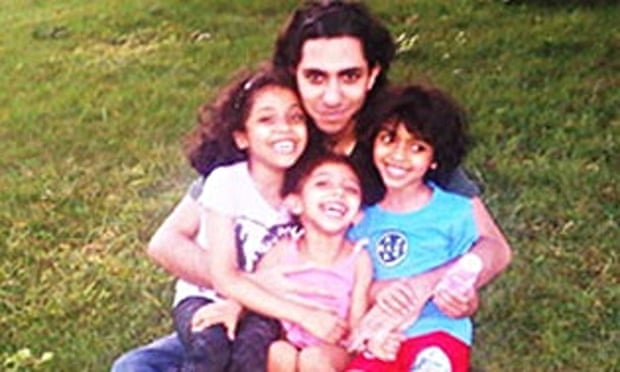 Saudi blogger Raif Badawi with his children. Photograph: Handout The Guardian
Here is the actual writing that gets you put in prison for 10 years and lashed 1000 times in the US "ally" backward terror "kingdom" of Saudi Arabia. I call on all bloggers who value freedom of speech to pass this on.
I salute the brave Saudi blogger Raif Badawi– who was convicted of insulting Islam and was brought after Friday prayers to a public square in the port city of Jeddah and flogged 50 times before hundreds of spectators, a witness to the lashing said. He will be flogged every Friday until he has received all 1000 lashes.
The witness said Raif Badawi's feet and hands were shackled during the flogging but his face was visible. He remained silent and did not cry out, said the witness, who spoke to the Associated Press on condition of anonymity fearing government reprisal.
Let's take a look at the writings of Saudi blogger Raif Badawi – sentenced to 1,000 lashes (Source: The Guardian) to see what gets you lashed by the peace-loving holy keepers of Mecca…
Here are actual quotes from his blog, the "Saudi Free Liberals Forum," that was shut down after his arrest in 2012.
Reflecting on the role of the Muslim religious establishment on 12 August 2010, Badawi warned about the stifling of creativity:
"As soon as a thinker starts to reveal his ideas, you will find hundreds of fatwas that accused him of being an infidel just because he had the courage to discuss some sacred topics. I'm really worried that Arab thinkers will migrate in search of fresh air and to escape the sword of the religious authorities."

***
"Secularism respects everyone and does not offend anyone … Secularism … is the practical solution to lift countries (including ours) out of the third world and into the first world."

***
"What hurts me most as a citizen of the area which exported those terrorists … is the audacity of Muslims in New York that reaches the limits of insolence, not taking any regard of the thousands of victims who perished on that fateful day or their families. What increases my pain is this [Islamist] chauvinist arrogance which claims that innocent blood, shed by barbarian, brutal minds under the slogan "Allahu Akbar", means nothing compared to the act of building an Islamic mosque whose mission will be to … spawn new terrorists … Suppose we put ourselves in the place of American citizens. Would we accept that a Christian or Jew assaults us in our own house and then build a church or synagogue in the same area of the attack? I doubt it."
In May 2012, shortly before his arrest, Badawi addressed the nature of liberalism.
"For me, liberalism simply means, live and let live. This is a splendid slogan. However, the nature of liberalism – particularly the Saudi version – needs to be clarified. It is even more important to sketch the features and parameters of liberalism, to which the other faction, controlling and claiming exclusive monopoly of the truth, is so hostile that they are driven to discredit it without discussion or fully understanding what the word actually means. They have succeeded in planting hostility to liberalism in the minds of the public and turning people against it, lest the carpet be pulled out from under their feet. But their hold over people's minds and society shall vanish like dust carried off in the wind."
His final thought quoted Albert Camus: "The only way to deal with an unfree world is to become so absolutely free that your very existence is an act of rebellion."
"No religion at all has any connection to mankind's civic progress. This is not a failing on the part of religion but rather that all religions represent a particular, precise spiritual relationship between the individual and the Creator. ..However, positive law is an unavoidable human and social need because traffic regulations, employment law and the codes governing the administration of State can hardly be derived from religion."
(Translations: Mona Mahmood, Amnesty International, Ian Black, Raya Jalabi and Gatestone Institute, for The Guardian.)
Frank Schaeffer is a writer. His latest book —WHY I AM AN ATHEIST WHO BELIEVES IN GOD: How to give love, create beauty and find peace