Yesterday's post was viewed by thousands of people. Many more than I anticipated.
I dipped my keyboard in acid before I wrote it as I was upset . . . and I still am.
If you didn't see it, click Rick Warren's Horrific Tragedy & The Sickening Response of Some "Christians"
Today, I want to switch attention to the matter of losing a child. At least three Christian scholars have written on the unfathomable agony of losing a child or spouse.
Nicholas Wolterstorff wrote Lament for a Son after losing his boy (Kindle Edition).
C.S. Lewis wrote A Grief Observed after losing his beloved wife (Kindle Edition).
And not long ago, Ben Witherington and his wife Ann wrote When a Daughter Dies after losing their daughter.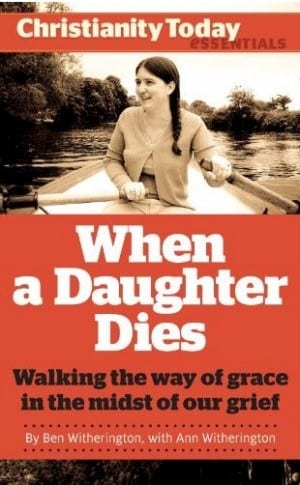 In our day, grief is mostly privatized. But the ancients were different. They grieved in public.
All of the above embody human grief in written form. As such, they stand in the spirit of the ancients with a view to helping others handle their own grief and loss.
Ben Witherington asked me to endorse his book after it was printed, which I gladly did. Here's what I wrote.
Every parent's worst nightmare is to lose their child. Unfortunately, this was the nightmare that befell renowned New Testament scholar Ben Witherington and his wife Ann. Writing from the pain of a recent tragedy, this tender book will touch the heart of every person who has lost a loved one. While beautifully honoring the memory of their daughter Christy, the Witheringtons also tackle the difficult questions about God's will in such tragedies, how to handle grief, and how (not) to help others who are grieving, all within a biblical context.
If you have a story about losing a loved one (family member or close friend), and you'd like to share it with us, you may do so in the comments section. Try to keep it to three or four paragraphs as long comments are usually skipped over.
Click here to grab a copy of Ben's book
Related:
Rick Warren's Horrific Tragedy & The Sickening Response of Some "Christians"
If you find this post helpful, you are free to add a LINK to it on your blog or website.
Subscribe to the blog so you don't miss anything. It's free. All
Email Subscribers
will receive my eBook
Rethinking the Will of God
(Revised) free. Also, if you are interested in setting up a new blog,
click here
. If you're looking for a new hosting service or you want to buy a domain name, I recommend
BlueHost
, hands down.