Tomorrow, I'm going to be putting together a unique post on the Holy Spirit. You don't want to miss it.
Our book launch for God's Favorite Place on Earth officially ended on May 7th. I want to personally thank all of you who bought the book. Because of you, the bit hit #13 on Amazon. That means it was the 13th bestselling book out of over 7 million books.
In addition, it hit #1 in Christian Living and #1 in Religion & Spirituality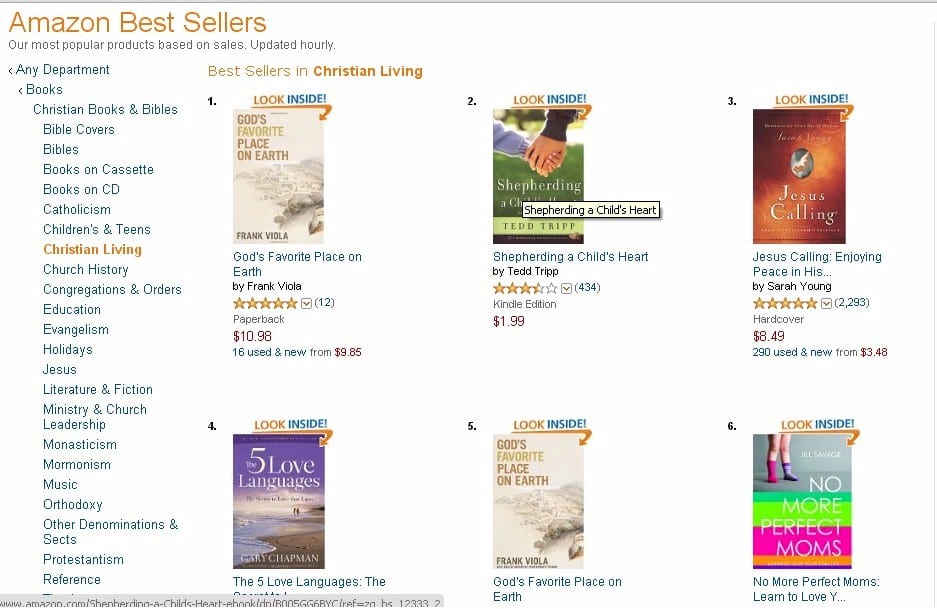 And until late last night, the book stayed below #50 on Amazon. Now it's starting to go up.
I'm deeply grateful to all of you who bought the book. As I've said many times, the ideas in God's Favorite Place on Earth are my life's work.
Something That Concerns Me
Before I unveil what's on my heart right now, let me point out to all my new subscribers that I don't profit personally from my book sales. Royalties for book sales goes to ministry expenses and my ministry to the poor, which I'm actively engaged in (see my FAQ page for details).
Someone wrote me the following email recently saying,
Frank, I feel guilty taking these free gifts. 25 free bonuses and then you're giving away your seminar and e-book on God's will to blog subscribers, not to mention all the free blog posts and podcasts. I really appreciate your generosity but I'm struggling with guilt. What can I do to bless you back?
I've received many emails like this one over the last week. Some of them don't have the "I feel guilty" part, but they all have the "thank you" and the "what can I do to give back" part.
Part of me feels awkward answering this question. And I'm struggling right now. But I'm going to risk it and respond anyway.
There are four things that all of you can do that not only would bring joy to my heart, but it would bless thousands of other people. I say this because I keep getting emails from grown men telling me that God's Favorite Place is causing them to weep. And women are telling me it's touching them deeply as well.
Four Things You Can Do
1. A book can come out of the gate doing super well, and then in a month, fizzle out. The one ingredient that makes all the difference in the world is – High Recommendations via Word of Mouth.
I have a vivid memory of sitting in a car with a friend of mine when I was in my 20s. My friend was telling me about this particular book he read. He went on and on about it. Then he said, "Frank, you gotta read this book. Trust me, just get it and read it. You'll see what I mean."
Guess what? I got it and read it.
If he said, "I read this particular book and it was good." I would have forgotten all about it. But when he said, "you GOT to read this book. Trust me." I had to get it and see for myself.
The truth is, God's Favorite Place will fizzle and die in a few weeks unless those who read it begin to strongly recommend it to all their friends. Not because I asked, but because they truly loved the book and got something valuable from it.
Consequently, if you read God's Favorite Place on Earth, and it touched you, inspired you, challenged you, blessed you, or even entertained you . . . would you mind recommending it to all your friends? Feel free to send them to the landing page which has a sampler, recommendations, a video trailer, and a list of retailers where they can grab a copy.
This first ingredient is going to make all the difference in the world for the book's future.
2. As I write this post, Amazon has the book under $10.00. Many people have written us and said they want to buy copies for friends. Now is a good time to do that because if you purchase 3 copies from Amazon, the shipping is free.
3. I've said this before, but some of my friends who are knowledgeable about book publishing warned me that God's Favorite Place will never hit a bestseller list unless I had a select "launch team" of 100 – 500 people. I defied their conventional wisdom and made all of you my launch team. (So there was no "cut" to make!) Time will tell if this was a mistake or not.
Ranking high on Amazon is nice, but it's not the same as being on a bestseller list. While being on a bestseller list means little to me personally, it's huge for a book because it gives it major attention to thousands who won't hear about it otherwise.
So here's how you can help it hit some bestseller lists: Go into your local Family Christian, LifeWay, or independent Christian bookstore and buy a copy of the book. If the stores doesn't carry it, raise a ruckus so robust that they have to physically throw you out! (Just kidding folks! 'Tis humor.)
Cereally . . .  if they don't carry it, ask them to order it in for you. This will help the book hit the bestseller lists and garner more attention to the book. You may pay a little more for the book this way, but consider the cost as a ministry gift.
4. Share this recent radio interview I did on the book with all your friends. Recently, Dr. Michael Brown had me on his show for 1 full hour to discuss the book. There were many surprising moments, and I almost lost it a few times. Click here to listen and share the link. It's also on iTunes.
That's really it.
These 4 ingredients are the only way that God's Favorite Place on Earth won't go the way of most of the 3 million books that are published every year — a few die-hard fans and obscurity for the rest of the Christian world.
Thanks so much for helping!