Eyes of the Heart by Christine Valters Paintner is a book that unfold photography as a Christian spiritual practice.
Paintner explains how the camera can help people open the eyes of their heart. She draws heavy on the spiritual writers of the past who talk much about seeing the invisible realm.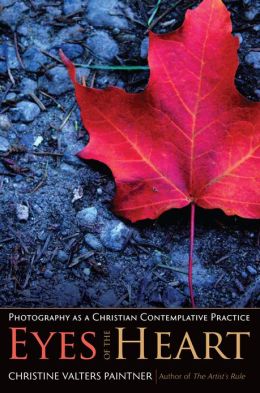 I know zero about photography, albeit, I'm a visual person and love good art. This book seeks to blend spiritual reflection with photographs. Here are some reactions by early readers:
"Opening Christine Paintner's Eyes of the Heart is like entering a garden in full bloom. It opens up all your senses so you see, smell, taste, and touch the world in a whole new way. Paintner has a gift for reuniting the transcendent and the immanent. She calls God home. She sees the Divine in the pebble on the path, hears its sound in the buzzing mosquito. This modern-day monk knows the essential secrets to sacred living and joyful being and she shares them freely." —Jan Phillips, Author of No Ordinary Time
"Christine Valters Paintner explores the eye as a window to the heart. Using scripture and observations from thinkers in all faiths she offers a spirituality of photography as writing with light. This monk, photographer-artist, and writer combines the art of image receiving with visio divina, taking us through a detailed program for the feeling, reflecting, and completion of our heart's vision." —
Br. John J. O' Hara, S.A. 
, Graymoor Spiritual Life Center
"Eyes of the Heart is more than a celebration of God's presence in the world. It is itself an experience of receiving the Divine directly within. Paintner's insights and exercises lead the reader to a personal, intimate encounter with divinity. In the process, she also illuminates the way to self-understanding and creative serenity." —Anthony F. Chiffolo, Author of 100 Names of Mary
Subscribe to the blog so you don't miss anything. It's free. All
Email Subscribers
will receive my eBook
Rethinking the Will of God
(Revised) free. Also, if you are interested in setting up a new blog,
click here
. If you're looking for a new hosting service or you want to buy a domain name, I recommend
BlueHost
, hands down.