As you know, on April 17, I decided to part ways with the very "conventional" idea of putting together a small "book launch team." And instead, I broke all custom by making ALL OF YOU part of my launch team – whoever wants to be.
So you all made the cut!
Some of my friends are saying, "Frankie V., this idea will never work. People won't spread the word about your book unless you give them something in return."
Perhaps I'm a fool, but I choose to believe differently.
One of my friends, Mike Morrell, is just as foolish as I am (maybe). He told me over the phone the other day, "Frankie V., there are tons of us who want to help you promote this great book on launch week. But many of us are busy and lazy. So make it easy for us. Give us some short updates that we can copy and paste on our Twitter feeds, Facebook pages, LinkedIn, our blogs, and some photos for Pinterest.
Mike's suggestion resonated with me. So this for all of you – my Official Launch Team.
Tweets * Facebook Updates * LinkedIn Updates
You can run these all week – May 1 to May 7. If you like some in particular, run them a few times.
"Jesus was rejected everywhere He went … except for 1 place." @FrankViola http://bit.ly/13H63du
"God builds us to break us and beautify us." @FrankViola http://bit.ly/13H63du
"In our suffering, we want an explanation but Jesus wants to give us a revelation… of HIMSELF." F. Viola http://bit.ly/13H63du
"A reduced Christ is the same as a rejected Christ." E. Stanley Jones from http://bit.ly/13H63du
"All great Christians have been wounded souls." A. W. Tozer from http://bit.ly/13H63du
"As high as God is going to elevate you is as deep as He digs to lay the foundation." @FrankViola http://bit.ly/13H63du
"Sometimes the brightest light comes from the darkest places." From http://bit.ly/13H63du
"What doesn't destroy you ends up defining you in some significant way." From http://bit.ly/13H63du
"If you're always getting your own way, Jesus Christ isn't getting His." @FrankViola http://bit.ly/13H63du
Check out the gripping video trailer for GOD'S FAVORITE PLACE ON EARTH: http://bit.ly/10olenI
"To reject someone whom Jesus has received is to reject Jesus Himself." @FrankViola http://bit.ly/13H63du
"Sometimes God will deliver you from trouble. Oftentimes He will deliver you through it." @FrankViola http://bit.ly/13H63du
"You have a God who sometimes shows up 4 days too late." @FrankViola http://bit.ly/13H63du
"Criticism and rejection are God's tools for liberating His servants from the desire to please men." @FrankViola http://bit.ly/13H63du
"Bitterness doesn't imprison those who hurt you. It imprisons you." From http://bit.ly/13H63du
Hear Lazarus tell His story 30 years after Jesus raised him from the dead! http://GodsFavoritePlace.com
John Ortberg, Jon Acuff, Mary DeMuth, Jack Hayford, Greg Boyd, M. Batterson & Tricia Goyer share THIS: http://bit.ly/13H63du
Get @FrankViola 's  new best-selling book on discount: http://GodsFavoritePlace.com
Blog Post
If you're a blogger, this is a template made by my assistant (Jared) that you can use. Adjust and edit the way you want.
Frank Viola's new book, God's Favorite Place on Earth, has just released.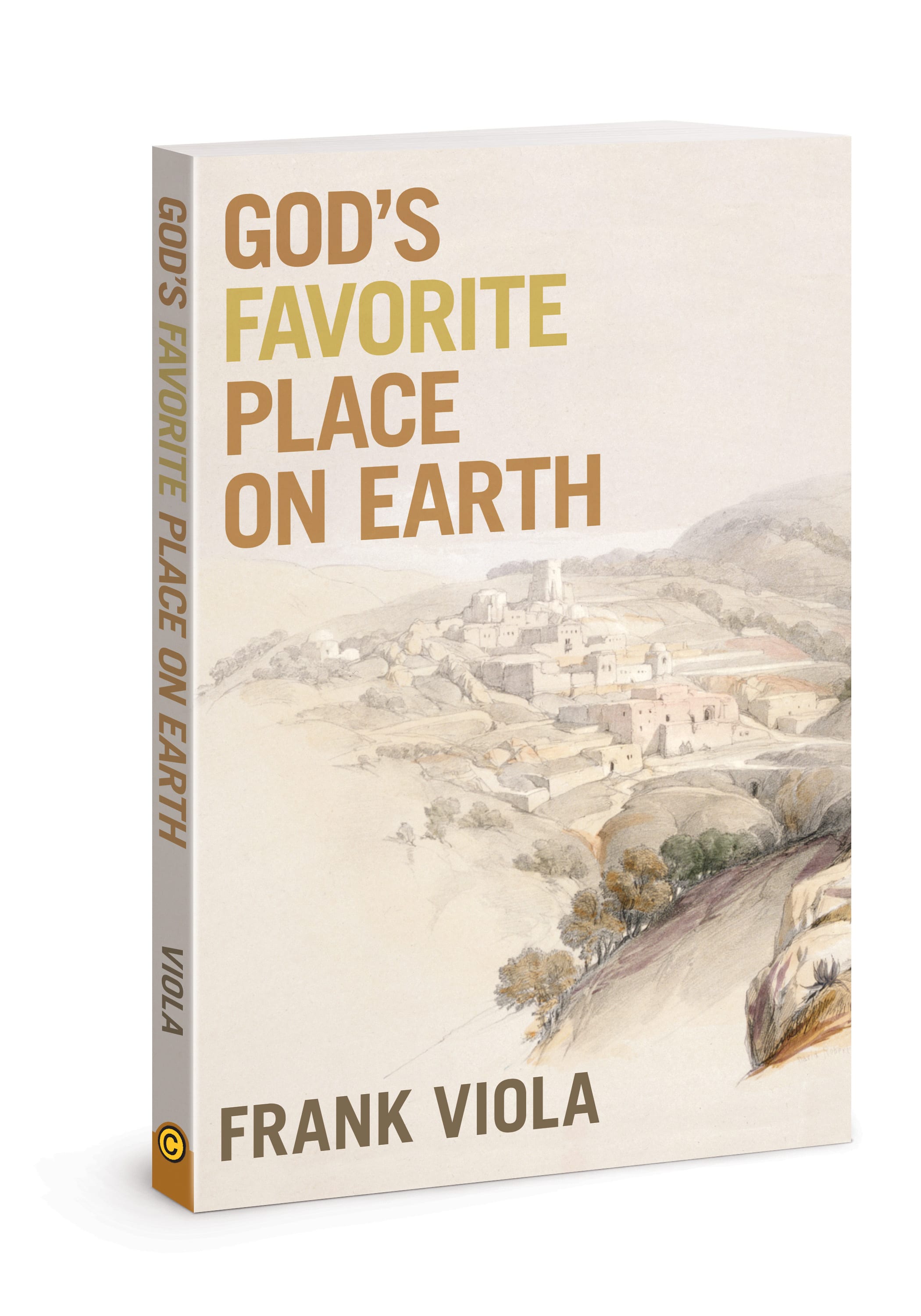 Recommendations
"In Frank Viola's hands, the story of Lazarus—like Lazarus himself—once again comes to life. In a world where hope is battered and life can so easily beat down the human spirit, we are reminded once more of the possibility of becoming a host of Life."
John Ortberg, pastor and author of Who Is This Man?
"God's Favorite Place on Earth realigned my heart toward Jesus and His mysterious, confounding, surprising, beautiful ways. It's not often I learn something new when reading a book, but Frank Viola's sharp storytelling and insightful interpretation made me hunger for more of the real Jesus."
Mary DeMuth, author of Everything: What You Give
"God's Favorite Place on Earth is the kind of book I've discovered I need to periodically find and read. Frank Viola's pen and voice are consistently both penetrating and trustworthy. Beyond his invitingly beautiful writing skill—which makes reading a joy and a sight-seeing tour that brings God's Word into 3-D when he relates narrative passages, I'm grateful for the depth of his themes."
Pastor Jack Hayford, Chancellor of The King's University, Los Angeles
"This is a masterfully engaging book that distills the vision of the Christian life into one focused quest: To be God's favorite place on earth today. I recommend this little volume to all Christians and Christian leaders."
Mark Batterson, New York Times bestselling author of The Circle Maker
"Combining masterful storytelling, historical knowledge, biblical insight and practical wisdom, Frank artfully uses the Gospels' depiction of Lazarus and the small town of Bethany to lay out a beautiful and compelling vision of a God who longs to make every human heart and every church 'His favorite place.' This is a beautifully written, timely, prophetic work all would benefit from reading!"
Greg Boyd, pastor and author of Benefit of the Doubt
"A lot of people write books, Frank writes stories and in this one we once again see why he's such a master. Honored to call him a friend, excited to call him an author I love to read."
Jon Acuff, bestselling author of Start, Quitter, and Stuff Christians Like 
"Frank Viola surpasses himself in his best book yet—a work of serene, soaring magnificence. Part novel, part biography, part theology, part Bible study, Frank's imaginative touch and command of prose haiku leaves the reader resolved more than ever to be a Bethany—God's favorite place on earth."
Leonard Sweet, Drew University, George Fox University, sermons.com
"Reading God's Favorite Place on Earth by Frank Viola, my soul began to burn from Chapter One. To delve into Lazarus' heart and thoughts … I received a beautiful glimpse into the life of Christ on earth. Lazarus' stories make a perfect foundation for God's truth, God's intimacy. I can't wait to share this book!"
Tricia Goyer, USA Today best-selling author of 35 books
"In spite of my Ph.D. in Theology, I had never considered the importance of Bethany in the life of Jesus."
Phil Cooke, media consultant and author of Unique
"The best thing I can say about Frank Viola is this: When I read his books—and I read them all—I don't think much about Frank Viola. I think about Jesus. And I learn to love Him more. This book is no different. Read it, and you'll find yourself thinking, if you're like me, 'I knew Jesus was great, but… Wow!' And that, at least from me, is as good as it gets."
Brant Hansen, Radio personality and blogger 
See all 47 Recommendations at GodsFavoritePlace.com 
Check out the book sampler and share it with others: http://frankviola.org/GodsFavoritePlace.pdf
Check out the short video trailer and share with friends: http://www.youtube.com/watch?v=RG_9TeE-BO8
Banner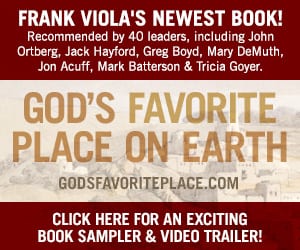 Point the Banners to GodsFavoritePlace.com
Pinterest
Point the Pinterest image to GodsFavoritePlace.com
If you find this post helpful, you are free to ADD A LINK to it on your blog or website. But don't copy and paste the post as this violates Google's guidelines.
Subscribe to the blog so you don't miss anything. It's free. All
Email Subscribers
will receive my eBook
Rethinking the Will of God
(Revised) free. Also, if you are interested in setting up a new blog,
click here
. If you're looking for a new hosting service or you want to buy a domain name, I recommend
BlueHost
, hands down.