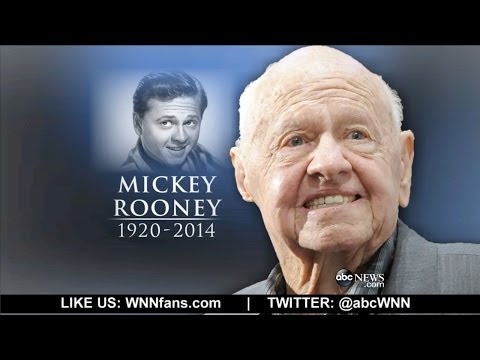 There are no second acts in American lives.

– F. Scott Fitzgerald (1896-1940)
Oh really? So how many acts were there in the long, complicated and amazing life of Mickey Rooney? Let's list a few: Child star, teen star, Army draftee, struggling male lead, Broadway revival star and award-winning older character actor on screens both large and small. And then there was the personal side of the drama, with eight marriages and any number of financial setbacks along the way.
That's the kind of life that, when you pass away at age 93, earns you this kind of language in a lengthy New York Times obituary:
Although his career was one of the longest in show business history — about 90 years separated his first movie from his last — it was crammed with detours and dead ends. ("There have been crevices, fissures, pits, and I've fallen into a lot of them," he told The Times in 1979.)

His elfin face and short, stocky body were part of the problem: At 28, with adolescent roles no longer an option and adult roles hard to come by, he said he would give 10 years of his life to be six inches taller. Yet most of his wounds were self-inflicted. …

Yet he always bounced back, often higher than anyone expected.

Not including the Mickey Maguire shorts, Mr. Rooney made more than 200 movies, earning a total of four Academy Award nominations — he was nominated for best supporting actor as the fast-talking soldier who dies trying to protect $30,000 he won in a craps game in "The Bold and the Brave" (1956) and as the trainer of a wild Arabian horse in "The Black Stallion" (1979). (Because of his size, Mr. Rooney played a lot of jockeys and, as his waistline expanded, former jockeys who had become trainers. He was the vagabond who helps Elizabeth Taylor turn an unruly horse into a steeplechase champion in her breakthrough film, "National Velvet," in 1944.)

He was also nominated for five Emmy Awards and won one, for his performance in the 1981 television movie "Bill" as a developmentally disabled man who has spent most of his life in an institution and must learn to live in the outside world.
The final twist in the plot, back to a modest level of stardom late in life, even had a religious twist — which is why this is GetReligion territory. You see, there seems to be some confusion about what, precisely, took place to bring healing to this troubled soul. The Times notes:
Things began turning around for Mr. Rooney in the 1970s. He stopped drinking and became a born-again Christian. In 1978, after two more marriages and divorces, he married Jan Chamberlin, a country singer whom he met through his son Mickey Jr. Their marriage, his eighth and last, brought stability to his life. And a return to stardom was just around the corner.
So he stopped drinking and became a "born-again Christian" and that is that? This matters since this spiritual turn opened the door to his smashing return to Broadway and several other remarkable events, including that Oscar-nomination for "The Black Stallion." Apparently no other details were needed.
But that was tame compared with the obit in The Washington Post, which went one step stranger with a neck-snapping transition from things spiritual to things earthy.