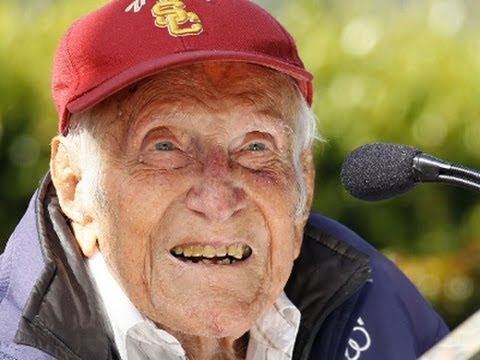 Louis Zamperini had an amazing, amazing life.
Actually, he had two of them since — pardon my French — he was a born-again Christian.
You can get the amazing details of his first life in all of obituaries that are running in major news publications. However, if you want to know much about how this amazing man made sense of all of the pain and suffering in his life, how he was healed (in several senses of that word) and then moved on, well, good luck with that.
Here is the top of the almost fine obit in the pages of secular holy writ, The New York Times:
Louis Zamperini, an Olympic runner who as an airman during World War II crashed into the Pacific, was listed as dead and then spent 47 days adrift in a life raft before being captured by the Japanese and enduring a harsh imprisonment, died on Wednesday in Los Angeles. He was 97. A statement released by his family said he had had pneumonia.

Mr. Zamperini's remarkable story of survival during the War gained new attention in 2010 with the publication of a vivid biography by Laura Hillenbrand, "Unbroken: A World War II Story of Survival, Resilience, and Redemption." It rose to No. 1 on the New York Times best-seller list.

The story is to be retold in a film adaptation of the book directed by Angelina Jolie and scheduled to be released in December. Jack O'Connell plays Mr. Zamperini.
The details of his ordeal must be read to be believed. Yes, please read them. Yes, he shook the hand of Adolph Hitler.
It is perfectly understandable that this kind of trauma and, at one point, daily torture left scars. The news coverage of Zamperini's death has handled that angle, sort of. Here is the Times, again: