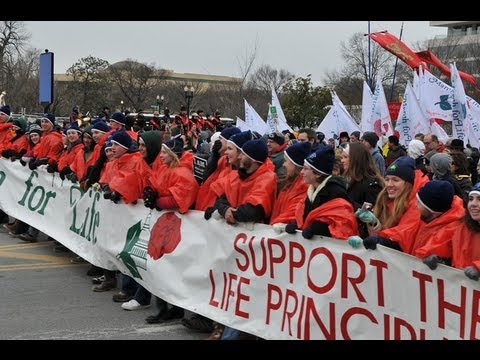 It happens at least once a year.
A GetReligionista will write a post about media bias in mainstream coverage of abortion (click here for that classic series on this topic by the late David Shaw, media-beat reporter for The Los Angeles Times) and then someone will post a comment saying that abortion is a political, not a religious, issue and that this site should stick to religion. Often, these correspondents will note that the only people who think abortion is a religious issue are crazy fundamentalists and radical Catholics, etc., etc. — an observation that does little to help make their case.
Truth is, lots of people oppose abortion for different reasons. Tomorrow's annual March For Life will draw thousands of Catholics, evangelicals, Orthodox Jews and the usual suspects. However, those paying close attention will also see banners for pro-life atheists and agnostics, as well as the Pro-Life Alliance for Gays and Lesbians ("Human Rights Start When Life Begins"). Marchers will show up from Feminists For Life, Democrats For Life, Libertarians For Life and a host of other groups from off the beaten journalistic path.
However, it is safe to say that the majority of the marchers will be there for reasons that are based, in part, on their religious convictions. In the United States of America, and lots of other places, that is the statistical reality.
Thus, it was rather strange to see such a faith-free approach used in that New York Times story that ran under the headline, "Parties Seize On Abortion Issues in Midterm Race." As a reader noted, in an email to this site:
Other than quoting someone from the Faith and Freedom Coalition, there is no allusion that some people see this as an issue of faith or morality.

As a person of faith who is against legalized abortion on demand, this bothered me. It seemed very deliberated on the part of the writer. Most people, however, probably know the basics of the pro-life/pro-choice debate. Does an article mentioning this debate as it pertains to an election have to mention the religious aspect? Or should readers already just know?
That's a very good question.
Consider the top of the story, for example. Can one address the political clout of those who oppose abortion inside the modern Republican Party without mentioning the "pew gap" or the role played by married, religious women in this cause?
WASHINGTON – When the Republican National Committee gathers for its winter meeting here on Wednesday, the action will start a few hours late to accommodate anyone who wants to stop first at the March for Life, the annual anti-abortion demonstration on the National Mall. And if they need a lift to the meeting afterward, they can hop on a free shuttle, courtesy of the Republican Party.

"We thought it only fitting for our members to attend the march," said Reince Priebus, the party chairman.

Abortion is becoming an unexpectedly animating issue in the 2014 midterm elections. Republicans, through state ballot initiatives and legislation in Congress, are using it to stoke enthusiasm among core supporters. Democrats, mindful of how potent the subject has been in recent campaigns like last year's governor's race in Virginia, are looking to rally female voters by portraying their conservative opponents as callous on women's issues.
This story does cover a lot of ground, but the reporters are following a strictly political map. At several times it was easy to spot the ghosts that the Times team either didn't see or made a conscious decision to avoid. For example: