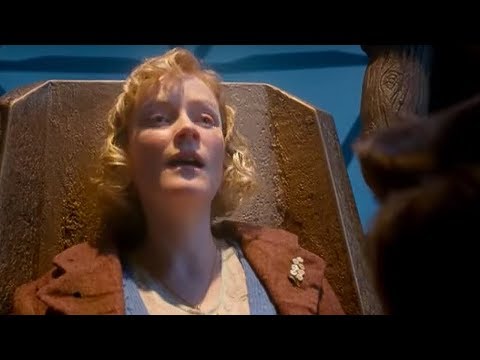 "Go forward in all your beliefs and prove to me that I am not mistaken in mine"

– The Doctor
The folks who created "Doctor Who" were well aware that, by creating a show centering on a noble alien who has limited control over time and space, they were sailing into an ocean of religious questions. Have I missed something or has the Doctor specifically avoiding using the Tardis to pay a visit to biblical times? A chat with the Buddha? A conversation with Muhammad about faith, warfare and governance?
Frankly, I have been wondering if anyone was going to use the 50th anniversary of the series as a chance to produce a news feature about its religious content. News? Not yet.
So far, the BBC — naturally enough — is the only organization to come close, with an essay by a Dr. Andrew Crome, a historian who lectures on modern Christianity at the University of Manchester. The top of this non-news piece takes us straight into the heart of the nerd beast:
A near immortal crossing space and time, followers split over interpretation, characters in strange hats … Perhaps it is no surprise Doctor Who is sometimes described as a form of surrogate religion. However, behind this light-hearted comparison lies a grain of truth, as Doctor Who has continually engaged with important religious themes across its 50-year run.

At times religion has been addressed directly. For example, 1970s producer Barry Letts, a practicing Buddhist, worked ideas from his faith into the show's narrative: witness Jon Pertwee sharing a version of the Mumonkan's sixth Zen Koan with companion Jo Grant in the 1972 episode The Time Monster. When Jon Pertwee regenerated into Tom Baker, elements of the episode were set in a Buddhist meditation centre, with a fellow Time Lord clandestinely living as a Buddhist monk in close attendance.
However, as you would expect, the show's relationship to Anglican Christianity has been complex or downright muddled.
Semi-Anglicans have shown up as military monks in several episodes and if a character shows up in a collar the odds are very high that the resulting plot twist will be quite nasty. It's clear that the current executive producer and lead writer, Steven Moffat, is having fun running through his catalogue of comments he wants to make about the future of the church and his views — as an atheist — of its evolution toward chaos or irrelevance.
… Moffat has … re-imagined a 51st Century Anglican Church as a morally ambiguous paramilitary organisation, complete with ranks made up of bishops, vergers and soldiers with special holy names. While the Church can ally with the Doctor, as in the 2010 episodes of The Time of Angels/Flesh and Stone; in the 2011 episode A Good Man Goes to War they fight against him, working in tandem with an order of headless monks and a mysterious religious sect known as The Silence.

These varied portrayals should remind us that Doctor Who has no default position on religion, whether positive or negative, and a writer's idea can be adapted by actors, directors and producers to take on themes which might be contrary to their original intention. …
This essay does a fine job of listing a view of the specific episodes of Doctor Who 2.0 that veer into religious territory, including one show that — amazingly enough — was nominated for the Evangelical Christian Epiphany Prize, given for offering a positive depiction of belief.
However, trends can be noticed. Eastern religion is treated with more respect than Western forms, and churches provide wonderful hooks for satire. And when in doubt, the Doctor helps liberate people from their false gods (who usually turn out to be nasty aliens). The default is a liberal post-Christian Universalism.
However, I thought it was interesting that the essay does not refer to a very important word in Doctor Who — Christmas.