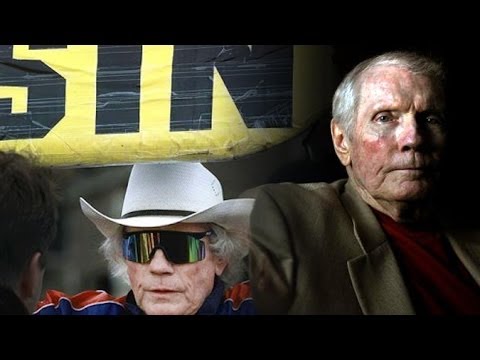 Bad journalism makes for good GetReligion posts.
See "'Fred Phelps has been excommunicated' and other gossip" and "Do journalists need to crank up the Phelps vitriol? Really?"
Those excellent posts by Jim Davis and Terry Mattingly highlight the media's sins in reporting on the dire health situation of Phelps, founder of the famous — for all the wrong reasons — Westboro Baptist Church.
Our tmatt, in super-punctuation mode, urges:
So journalists, please just quote people. That. Will. Be. Wild. Enough.
How wild is this? I'm going to praise a reporter for using a technique straight out of Journalism 101 to report the Phelps story.
Here's the straight-news lede — inverted-pyramid style — atop CNN Godbeat pro Daniel Burke's report (hint: he just quotes people):
(CNN) – Westboro Baptist Church, the Kansas congregation known for picketing funerals with anti-gay signs, called reports that its founder, Fred Phelps, is near death "speculative."

"Fred Phelps has health issues," the church said in a statement Sunday, "but the idea that someone would suggest that he is near death, is not only highly speculative, but foolish considering that all such matters are the sole prerogative of God."

Nathan Phelps, the estranged son of Fred Phelps, posted a Facebook message Sunday saying his father was "at the edge of death" at a hospice in Topeka, Kansas, where Westboro Baptist Church has long been a controversial presence.

Nathan Phelps also said his father had been excommunicated from the church. "I'm not sure how I feel about this," he added. "Terribly ironic that his devotion to his god ends this way. Destroyed by the monster he made."

Westboro declined to say whether or not its patriarch has been excommunicated. The church's statement said that "membership issues are private" and that eight unnamed "elders" lead the Westboro congregation.

A church spokesman declined to respond to follow-up questions.
Burke attributes the disputed details to named sources and leaves it to readers to determine each party's credibility.
In his post, tmatt suggests:
Meanwhile, it's crucial for readers — journalists and news consumers alike — to grasp just how wild the doctrines of the Westboro crew really are, when compared with Christian orthodoxy.
The CNN report provides this crucial background: