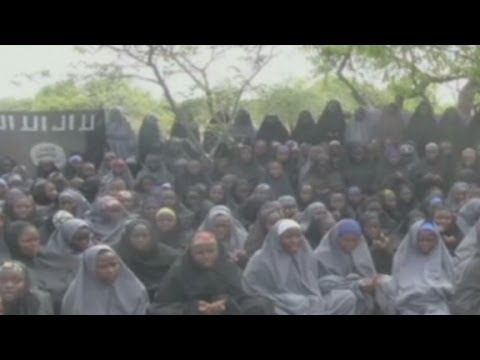 At this point, the kidnapped girls in Nigeria are officially "A News Story," which means that CNN is even breaking into its coverage of missing airliners to get into the big details. Of course, it helps when the details are on video:
(CNN) – The girls sit quietly on the ground, dressed in traditional Islamic garb, barely moving, clearly scared.

"Praise be to Allah, the lord of the world," they chant.

The video, released by French news agency Agence France-Presse, purports to show about 100 of the 276 girls kidnapped by Boko Haram fighters nearly a month ago. It's the first time they've been seen since their abduction April 14.
This doesn't mean, however, that everyone is completely comfortable with the clearly religious foundations of this hellish story.
In the print version of this CNN report, for example, the editors waited for 12 paragraphs to offer background on why it mattered that the girls — in the heavily Islamic Northern half of Nigeria — were wearing hijabs and chanting Islamic prayers.
In separate shots filmed against a green backdrop, the man who claims to be Shekau says the girls — who come from a Christian stronghold — have converted to Islam.
So the girls have been kidnapped, forced to convert to another faith and face threats that they will be sold into forced marriages and/or slavery. How many violations of the Universal Declaration of Human Rights are included in that equation?
Big issues. Nevertheless, that's pretty much it in terms of the religion content in this lengthy CNN report.
Meanwhile, over at The New York Times, this moving report on the crisis features photographs showing mothers weeping in church pews for their missing daughters — but the story itself never mentions that religion played any role in why these girls were targeted. The bottom line: The girls were taken from Chibok Government Girls Secondary School and the vast majority were Christians and the others were Muslims who were willing to attend a non-Islamic school with Christians, a violation of Boko Haram's vision of true Islam.
Still, some mainstream reporters are realizing that religion has something to do with this story and that Boko Haram's reign of terror in this corner of northern Nigeria is, in fact, a story.
Why? Why now?