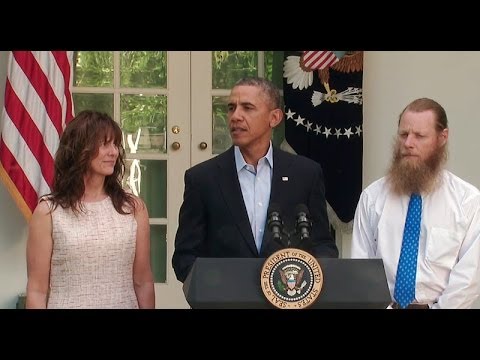 While most of the DC Beltway journalists do that dance that they do (Will the vaguely legal Taliban prisoner swap hurt Democrats in 2014 elections?!), there are some interesting religion-beat questions hiding between the lines in the story of Sgt. Bowe Bergdahl.
As a jumping-off point, consider the following rather bizarre passage in this New York Post report:
As a teen, the home-schooled son of Calvinists took up ballet — recruited to be a "lifter" by "a beautiful local girl," Rolling Stone reported, "the guy who holds the girl aloft in a ballet sequence." The strategy worked: Bergdahl — who also began dabbling in Budd­hism and tarot card reading — soon moved in with the woman.
A BBC explainer has some of that information, but with a few more specifics:
Sgt Bergdahl was born to the couple on 28 March 1986 in Idaho, where his father worked in construction. He and his younger sister, Sky, were home schooled by their devout Calvinist parents, instructed in religion and morality.

Sgt Bergdahl was taught to shoot a rifle and ride horses by age five, and reportedly grew interested in adventure tales.
At age 16, he became interested in fencing and ballet, and moved in with the family of a local girl studying dance who instructed him in Buddhism and Tarot.
It appears to me that these media sources were paraphrasing from some earlier document or story, which I have not been able to find yet. Note, for example, the difference — in the ballet, Buddhism and tarot card reference — between Bergdahl "moving in with the woman" and, at age 16, his move to live "with the family of a local girl." A vague difference, but important from a moral perspective.
This is especially true in light of that "devout" attachment to the "Calvinist" label.