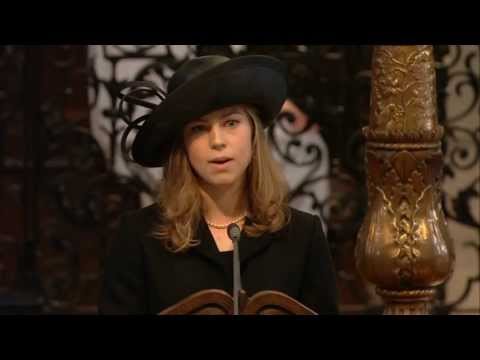 Last week, tmatt reflected on how the above reading at Margaret Thatcher's funeral was being portrayed by some in the media. It seems some had a rather narrow and inaccurate interpretation of the text.
But I wanted to mention a couple of funny corrections affiliated with that text. People kept sending us emails about this and they finally added up. So here's Foreign Policy:
After being carried through the streets of London in a flag-draped coffin aboard a gun carriage, former British Prime Minister Margaret Thatcher was laid to rest this morning in St. Paul's Cathedral. But the big story of the day wasn't Maggie. No, it was a 19-year-old Texan who stole the show from the deceased Iron Lady.

With a poise reminiscent of the elder Thatcher, Amanda Thatcher, Margaret's granddaughter, delivered a reading from Ephesians that has the British media agog. Amanda, who lives with her mother in Texas, chose a rather militant passage that calls on believers to "put on the whole armour of God." But the reading was a good one, delivered with remarkable grace by a young woman suddenly thrust into the international spotlight. In a tweet that nicely summarized the breathless British media reaction, Guardian columnist Jonathan Freedland couldn't help but speculate "whether somewhere a Texas Republican operative is watching Amanda Thatcher thinking 'Wonder if she has political ambitions…' "

… Poised, eloquent, the descendant of conservative royalty, evangelical Christian, and Texas-bred: It all seems to add up to a promising political future. She certainly hit it out of the park in her introduction to the world, and isn't it pretty easy to picture a clip of Amanda's speech at her grandmother's funeral playing a role in a future campaign commercial?
And (wait for the punchline) here's the correction:
An earlier version of this post referred to the Biblical passage from which Amanda Thatcher read as the Epistles. She read from Ephesians, which is one of the Epistles.
(Cue: Audible sigh.)
And yet that might be a less odd correction than what ran in the New York Times on the same matter: