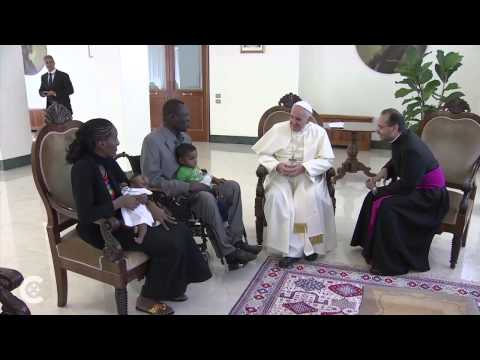 Other than editors trying to figure out the correct spelling of her name, there were very few journalistic questions this past week when the long-suffering Mariam Ibraheem Ishag was finally spirited out of Sudan to freedom.
Several people sent me notes to coverage of this event, with one stating the obvious in a note that said: "Okay, so nothing to do with press a critique — I've just got to share with you the news! Hallelujah!!!!"
However, I did notice two rather interesting wrinkles in some of the coverage. The first was rather subtle and the second was — well — just a puzzling hole in many stories.
First, there was the issue of how to describe her "crime." Here is the top of the solid report in The New York Times.
ROME – Mariam Ibraheem Ishag, a Christian woman whose death sentence in Sudan for refusing to renounce her faith set off an international protest, arrived in Rome … to a hero's welcome and a private audience with Pope Francis.

The pope spent a half-hour speaking with Ms. Ishag; her husband, Daniel Wani, who is an American citizen; and their two young children, Maya, born in prison just days after Ms. Ishag's conviction two months ago for apostasy, and Martin, a toddler. Apostasy carries a death sentence in Sudan, where President Omar Hassan al-Bashir has imposed Islamic law.
Here's the question: Is it accurate to bluntly state that apostasy carries a death penalty under "Islamic law" or is the matter more complex than that?
The question, once again, is linked to a basic reality that many journalists struggle with — that this is on one monolithic, consistent approach to Islamic law. It is certainly true that, in many or even most Islamic lands, sharia law includes a death sentence for apostasy, including the act of converting from Islam to another faith. However, there are different approaches to sharia in different lands. In some cultures, the death penalty may be found in the laws, yet this crime is rarely, if ever, enforced.
Yes, it adds another layer of complexity — adding at least a sentence or two of information — to note this conflict inside Islam. However, accuracy is accuracy and the public needs to know that not all Muslims believe that the death penalty is normative for this issue of conscience, which is clearly defended in the United Nations Universal Declaration of Human Rights (article 18 to be precise).
And what about the mysterious hole in some of the news stories?