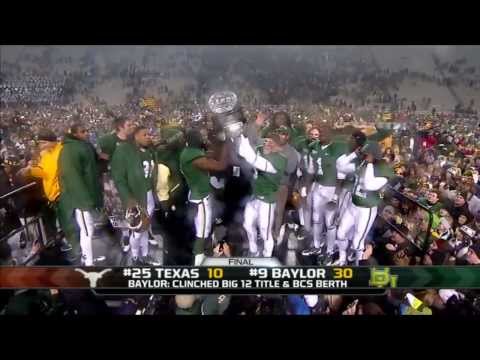 Regular readers will know that I have been arguing, for quite some time now, that it's hard to believe that anyone would try to write the story of the Baylor Bears football team, and the story of Head Coach Art Briles in particular, without getting into all of that Baptist stuff. How do you not even mention the faith angle woven into the fabric of this particular educational institution?
Well, the long-read pros at the ESPN.com feature site, Grantland, clearly decided to end that journalistic losing streak.
I am sure, however, that they thought the heavily favored Bears would win that last game. It's sad but they didn't (at least sad for a Baylor alum like me), but that upset is almost beside the point after the Big 12 championship and the symbolic changes represented by Baylor's new on-campus stadium and extended contract for Briles. The double-stack headline had lots of ground to cover:
Can God Save Baylor?

The lovable losers of the Fiesta Bowl
The key to this fine Grantland news feature, by scribe Bryan Curtis, is that the faith element never detracts from the football facts. The Baptist identity is shown to be what is really is — both a challenge to the success of the program and a potential source of its strength, with the right mix of players and coaches.
The here's the current question: How did Baylor become cool, all of a sudden? How did the relatively small Baptist school end up winning, or even holding its own, in a major conference in the whole big TV/BCS era?
Safety Ahmad Dixon was asked earlier this year if Baylor could win the Big 12. Baylor hadn't won an outright conference title in 22 years. Dixon looked at the reporter and replied, "Can God save a hooker?"

That gets us closer. Because what's cool about Baylor isn't what's new. It's what's quaint and old-fashioned. This is the campus where dancing was prohibited until 1996, a decree that led to the immortal Gary Cartwright line, "Baylor fans did not make love standing up, lest God mistake the act for dancing."

Briles hasn't erased that past. In the age of Rivals rankings, he has slyly embraced it. The new Baylor shows how you can marry religion with athletics without committing blasphemy against either of them. It shows how a religious school can be a football school and also a religious school.
And how it can be a normal school, at times, too.
The alum in me (I actually helped cover, as a Baylor Lariat reporter, the 1974 "Miracle on the Brazos" championship team) truly appreciated the fact that the story recognized that Baylor teams have always included their share of party-hearty, non-Bible study types. Check out this nice passage, featuring the voice of linebacker Doak Field, a team leader the late 1970s and on the 1980 Southwest Conference championship team: