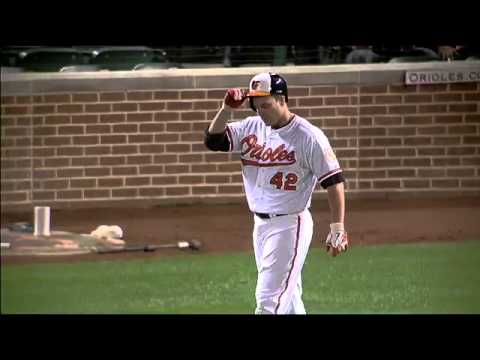 I realize that GetReligion readers have repeatedly demonstrated their lack of interest in the world of sports or, at the very least, media coverage of stories that mix faith and sports. I remain a pretty intense sports fan, based in Baltimore.
So it's rather remarkable that the newspaper that lands in my front yard not only produced a major story about the life and faith of hotter than hot Orioles slugger Chris Davis (hello Red Sox fans), but put it on the front page. I am not taking about the front page of the sports section, I'm talking about A1 in the Sunday issue.
The story isn't perfect — more on that in a minute — but it's clear that The Baltimore Sun team let Davis talk about the arc of his life and, in the end, accurately concluded that his return to evangelical Christian faith has actually had something to do with him getting his act together as a man, a husband and as an All-Star level player.
God is in the lede, which tends to happen a lot in sports coverage. The more important fact about this story is that the God factor is — to some degree — actually fleshed out in the reporting in the story.
To. Some. Degree. Here's the long overture to the piece:
The power? That blunt-force ability to lay wood to a baseball and propel it 400, 420, 450 feet? He had it even when he was a boy. Came from God, as far as he's concerned.

Harnessing it? Well, that's the work of Chris Davis' life. There's a paradoxical quality to the Orioles' first baseman, who has emerged this season as one of baseball's most fearsome sluggers, a likely All-Star starter who leads the majors with 22 home runs.

Growing up in East Texas, Davis was like a puppy with big paws, bowling over everything. But even as he climbed the ranks of the game he loved, he could not find the deeper fulfillment he coveted.

Before he could put all that strength to use, he had to stop trying to overpower everything in his life. He had to tone down the perfectionist streak he inherited from his dad, Lyn, who gave him his work ethic but could also be an overbearing presence. Both men acknowledge their competitive drive created friction in their relationship. That stress, which friends and teammates watched unfold as the younger Davis was blossoming into a star athlete in Texas, is what Chris Davis says helped set the course for his success today.

He had to believe that his faith, his marriage and his team could prop him up during bad times.
All of the usual themes that dominate sports features are here. The key theme that relates to faith is Davis' struggles, not only with perfectionism, but with anger. And what is the only thing that has helped him with his anger?