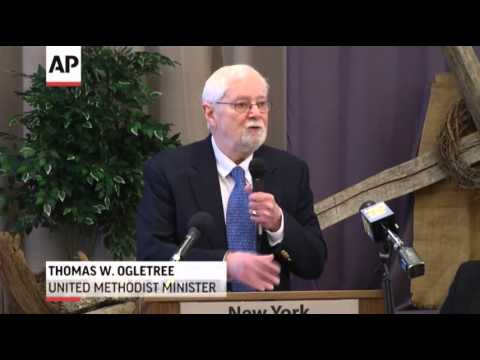 Maybe you've noticed, but your normally friendly GetReligionistas get grumpy when newspapers write one-sided stories.
We might even go so far as to use terms such as "advocacy journalism."
Three times in the last few weeks — here, here and here — we raised a stink over The Dallas Morning News' inability to find anyone to quote concerning the United Methodists' stance on homosexuality as "incompatible with Christian teaching."
Well, a major story on that same topic broke Monday in The New York Times' back yard:
The head bishop of the United Methodist Church in New York on Monday committed to ending church trials in his region for ministers who perform same sex-marriages, essentially freeing them to conduct a ceremony still prohibited under his denomination's laws.

As the first sitting United Methodist bishop to publicly make such a pledge, Bishop Martin D. McLee instantly became a leading figure in a decades-old movement within the United Methodist Church, the country's second-largest Protestant denomination, to extend equal recognition and rights to gay and lesbian members. Though Bishop McLee said that he hoped his approach would heal the church's deep divisions over homosexuality, more conservative Methodists warned that his actions would push the denomination closer to an irrevocable split.

Bishop McLee's pledge came as part of a resolution announced Monday with the Rev. Dr. Thomas W. Ogletree, a Methodist minister and retired dean of Yale Divinity School who had faced a church trial after he officiated the wedding of his gay son in 2012. The trial had been scheduled to begin on Monday.
As I kept reading, my question was this: Would the Times — not always known for its journalistic balance on social issues — allow both sides an opportunity to speak?
To my delight and the Times' credit, the answer was yes: