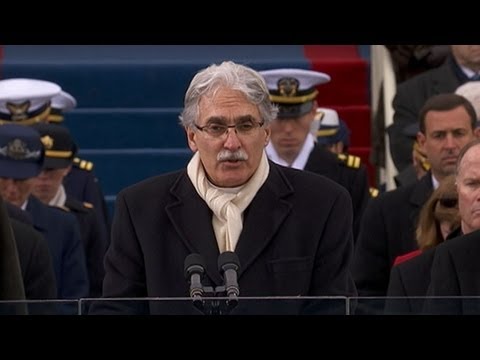 Few paid much attention when a well-known liberal Episcopal priest, the Rev. Luis Leon, delivered the invocation at the 2005 inauguration of President George W. Bush, a somewhat traditional United Methodist.
The goal, apparently, was to have a range of religious leaders take part even if their own political and theological views did not match those of the president or his supporters. However, Leon — drawing primarily from The Book of Common Prayer — elected to offer a prayer that did not contain material that clashed with the views of the president. Perhaps the most quotable passage came at the end of his prayer, as he prayed on behalf of Bush and his team:
Endow their hearts with your spirit of wisdom that they may lead us in renewing the "ties of mutual respect which form our civic life." Sustain them as they lead us to exercise our privileges and responsibilities as citizens and residents of this country that we may all work together to eliminate poverty and prejudice so "that peace may prevail with righteousness and justice with order."

Strengthen their resolve as our nation seeks to serve you in this world that this good and generous country may be a blessing to the nations of the world. May they lead us to become, in the words of Martin Luther King, members of a beloved community, loving our neighbors as ourselves so that all of us may more closely come to fulfill the promise of our founding fathers-one nation under God indivisible with liberty and justice for all.
Of course, it made headlines when Leon — a quick replacement for an evangelical forced out because of his defense long ago of Christian teachings that sexual acts outside of marriage are sin — said the following during his benediction for President Barack Obama's second public inauguration rite.
We pray for your blessing because without it suspicion, despair and fear of those different from us will be our rule of life. But with your blessing, we can see each other created in your image, a unit of God's grace, unprecedented, irrepeatable (sic) and irreplaceable.

We pray for your blessing because without it, we will see only what the eye can see. But with the blessing of your blessing we will see that we are created in your image, whether brown, black or white, male or female, first generation or immigrant American, or daughter of the American Revolution, gay or straight, rich or poor.
Obviously, some prayers are more newsworthy than others. I get that.
However, I was fascinated that the moral and theological content of the inauguration prayers were so closely parsed, while other religious events linked to the inauguration were given very little attention and ink.
I don't know about you, but I was fascinated with the lineup of speakers featured during the service earlier that morning at St. John's Episcopal Church, where Leon has long served as the rector.
Unless I have missed it, all we have to go on is the White House pool report about the event. Here are a few key snippets:
After another hymn ("O God, our help in ages past," sung by the full congregation), Pastor Joel Hunter delivered the opening prayer which included, "In your name we bless our president an Vice President and their families … use this service to consecrate not only them but those they serve…" He specifically mentioned members of the armed services as well.

Next was the Old Testament reading by Dr. Cynthia Hale, senior pastor at Ray of Hope Christian Church in Decatur, GA (Joshua 1:1-9), followed by another hymn ("Praise to The Lord, the Almighty") and a reading of Psalm 139:1-13 by Rabbi David Saperstein of the Religious Action Center of Reform Judaism.

Next, the choir sang "Amazing Grace." Then, the Gospel Reading (Matthew 6:25-34) by Cardinal Donald Wuerl, the Archbishop of Washington.
Now that's a rather interesting piece of Gospel material there. But, oh, nevermind.
Now who preached that sermon?