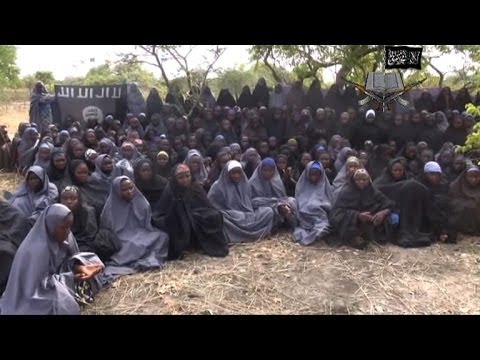 Is there a religion angle on the heartbreaking story of the kidnapped Nigerian schoolgirls?
Of course there is, as GetReligion has made clear in previous posts, including tmatt's insightful analysis titled "So #bringbackourgirls is finally a news story! Why now?"
From that post:
The bottom line: The girls were taken from Chibok Government Girls Secondary School and the vast majority were Christians and the others were Muslims who were willing to attend a non-Islamic school with Christians, a violation of Boko Haram's vision of true Islam.
So when a top Wall Street Journal editor touted that newspaper's front-page profile of the terror group's leader, I was curious to see if the story would reflect the important role of religion. (Tip: If you get the subscriber-only version when you click the link, Google the headline and you should be able to open the full story.)
A deep look at the Boko Haram leader who seized the girls–and the world stage: http://t.co/PoJI1Qrkcr pic.twitter.com/njoRdq4ory

— Matt Murray (@murraymatt) May 13, 2014
Let's start at the top:
ABUJA, Nigeria — When he appeared in a video on Monday boasting of having abducted more than 200 schoolgirls, the leader of terror group Boko Haram took the occasion to egg on the U.S. Army and get in a dig at ancient Egypt.

"We don't fear any American troops," shouted Abubakar Shekau, whose Islamist insurgency has terrorized northern Nigeria and recently drawn search-and-rescue advisers from the U.S. and other countries. "Let even the Pharaoh himself be sent down here! We will deal with him squarely!"

Bombastic and bellicose, Mr. Shekau has shown a boundless appetite for celebrity. He has sought to achieve it through mass murder and most notably through the kidnapping of 276 schoolgirls in April from a boarding school in the country's north.

By boasting—and laughing—about these deeds on YouTube, often with an AK-47 slung over his shoulder, Mr. Shekau has attained the distinction that has long eluded him: Africa's most notorious terrorist.

"He seems to want to distinguish himself by the depth of his brutality," said Daniel Benjamin, a former counterterrorism chief at the State Department who is currently director of Dartmouth College's Dickey Center for International Understanding. "It is a big part of his calling card."
Way up high, there's the reference to "Islamic insurgency."
A little deeper in the story, the Journal provides this important background: