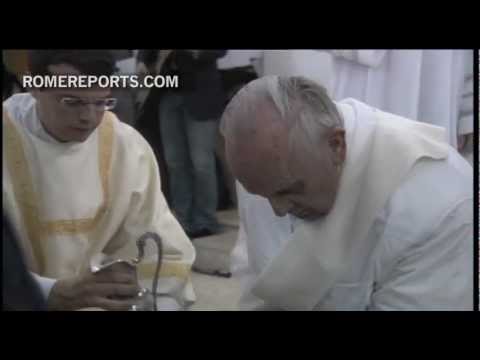 So, this pope vs. pope theme has been building, in mainstream coverage, during the amazing early days of Pope Francis. Have you noticed? One of the world's top reporters on all things Catholic has noticed, but we'll get to that in a minute.
Here's a classic example of the genre, drawn from a Reuters report:
Since his election on March 13, the former Cardinal Jorge Mario Bergoglio of Argentina has broken with the more esoteric and, some would say, ostentatious style of his predecessor Benedict, saying he wants to move the Church closer to the poor and suffering.
The key word, of course, is "ostentatious," as in:
ostentatious … adj

characterized by pretentious, showy, or vulgar display
Combine that with the dreaded phrase "some would say" and you have journalistic quicksand. Who are these alleged voices of authority caught up in that word "some"? As a regular GetReligion reader noted in a private email:
You don't see this kind of thing on Catholic news sites — Benedict might have been more traditional but so was JPII and certainly the beloved John XXIII who still was carried around on a chair and had flabella waived at him to keep flies away. It was Benedict who got rid of the crown on the coat of arms, after all. Why no disparaging comments about the exotic outfits of the folks from the East at the Installation Mass?
This Francis vs. Benedict theme has become so popular in the news over the past few weeks that it is almost normative.
Now, the more important conflict in recent days concerned the Holy Thursday rite in which the pope washed the feet of two women, along with 10 other inmates, in a juvenile detention center. The Associated Press noted that this has driven "traditionalists" — who loved the liturgical and personal style of Pope Benedict XVI — absolutely bonkers, or words to that effect.
It is clear that some conservatives are watching these events with interest, as opposed to fear. The AP story did include this commentary from an important conservative, as opposed to "traditionalist."
The church's liturgical law holds that only men can participate in the rite, given that Jesus' apostles were all male. Priests and bishops have routinely petitioned for exemptions to include women, but the law is clear.
Might I add, at this point, that it would have been good to quote the actual "law," which I would assume is actually a liturgical rubric linked to church tradition. This actually interests me because I have never been in a Holy Thursday rite in Eastern Orthodoxy in which the clergy did not wash the feet of a wide variety of worshipers, male and female.
Back to the AP story:
Francis, however, is the church's chief lawmaker, so in theory he can do whatever he wants.
Popes simply make or decree laws? That's a new one for me, as well. Reading on: