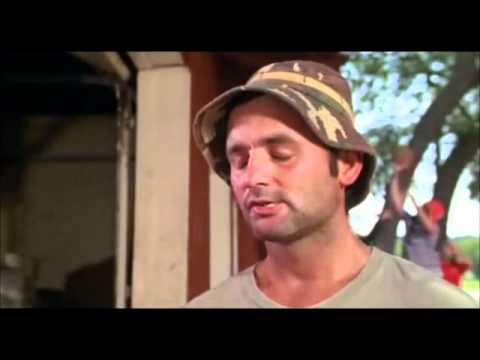 Carl: So I jump ship in Hong Kong and I make my way over to Tibet, and I get on as a looper at a course over in the Himalayas.

Angie: A looper?

Carl: A looper, you know, a caddy, a looper, a jock. So, I tell them I'm a pro jock, and who do you think they give me? The Dalai Lama, himself. Twelfth son of the Lama. The flowing robes, the grace, bald… striking. So, I'm on the first tee with him. I give him the driver. He hauls off and whacks one — big hitter, the Lama — long, into a ten-thousand foot crevasse, right at the base of this glacier. Do you know what the Lama says? Gunga galunga … gunga, gunga-lagunga. So we finish the eighteenth and he's gonna stiff me. And I say, "Hey, Lama, hey, how about a little something, you know, for the effort, you know." And he says, "Oh, uh, there won't be any money, but when you die, on your deathbed, you will receive total consciousness." So I got that goin' for me, which is nice.

Caddyshack (1980)
The Dalai Lama has an impressive resume: chief monk of the Gelug School of Tibetan Buddhism, symbol of Tibet's aspirations for independence, human rights leader, champion of interfaith dialogue, Nobel peace prize laureate, and cultural icon. While he may be heartily disliked by the Chinese government, Tenzin Gyatso (Dalai Lama is his title) has achieved a degree of renown in his lifetime equal to statesmen such as Nelson Mandela, or faith leaders such as John Paul II.
But this renown, coupled with the Western worldview held by most reporters, serves to obscure news reporting about the Dalai Lama.
In this week's episode of Crossroads, a GetReligion podcast, host Todd Wilken and I discussed the tendency of Anglo-American journalism to hang the Dalai Lama in a Christian frame. The first 15 minutes of our conversation focused on bullying by The Guardian newspaper of the Church of England in the run up to its vote on July 14, 2014 on women bishops, while the second half moved to Tibet to examine a CNN report on a statement made by the Dalai Lama on the occasion of his 79th birthday last week.
The Tibet story was drawn from my GetReligion article: "Do the words of the Dalai Lama matter to all Buddhists?", where I argued:
The bottom line: What the CNN team is doing in this story is projecting Christian assumptions about a church and hierarchy upon a non-Christian institution. These assumptions make the story intellectually accessible to a Western reader, but present the issue in a false light.
In his birthday address to the faithful, the Dalai Lama called upon Buddhist monks in Sri Lanka and Mynamar to halt their violent campaign against Muslim minorities and act in a way more befitting their faith. CNN quoted him as saying:
"I urge the Buddhists in these countries to imagine an image of Buddha before they commit such a crime," he said in the Indian town of Leh. "Buddha preaches love and compassion. If the Buddha is there, he will protect the Muslims whom the Buddhists are attacking."