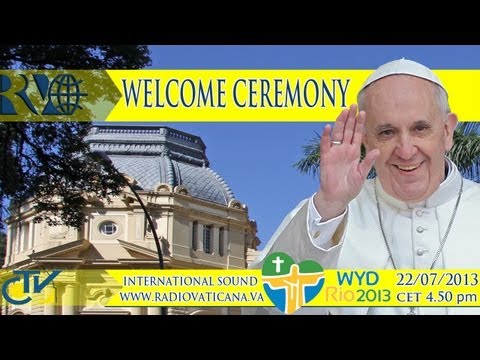 The pope is abroad. This means, of course, that it is time to look at the papal texts — Vatican site here — and play a mainstream media game that can accurately be called "spot the political sound bite."
The key to this game is that, no matter why the pope is traveling to a particular region and speaking to a particular audience, it must be assumed that the lasting impact of his trip will be related to real life in the real world, which for all too many journalists means politics. Period.
Now, it is possible that, should the pope address a social and cultural issue that is related to public life, journalists have a chance to discuss theology and politics at the same time. If this is the case, then the goal of the game is to stress that the pope is expressing HIS MERE OPINION of the issues at hand, as opposed to restating church ancient church teachings that have been reaffirmed through the ages.
Remember, the pope and other members of the hierarchy play have no unique, authoritative role to play in Catholic life. His point of view is only as important as the latest opinion poll in which he is out voted by the views of millions of cultural Catholics who rarely kneel at Catholic altars or go to (heavens!) confession.
So, it's day one in Brazil for Pope Francis, a mold-shattering pope from Latin America who certainly knows a thing or two about this rapidly changing part of the world. The trip, of course, centers on events in World Youth Day. And the lede in The New York Times focuses on real life:
RIO DE JANEIRO – Pope Francis arrived in Brazil on Monday for his first international trip as pontiff, treading carefully and in ascetic style in a nation where antigovernment protests have recently shaken a privileged political hierarchy, which faces withering criticism in the streets over claims of incompetence and abuse of power.

"Let me knock gently at this door," the Argentine-born pope, 76, said in a brief address delivered entirely in Portuguese to his hosts, including President Dilma Rousseff and Sérgio Cabral, the governor of Rio de Janeiro. "I ask permission to come in and spend this week with you."

Francis sidestepped the issue of Brazil's protests in his first public remarks here, emphasizing instead the importance of youth evangelization.
OK, I'll bite. What did the pope have to say about youth evangelization? What did he have to say about the purpose of his trip, since we are told that he emphasized that topic?
Sorry, wrong news source for that kind of subject. Try looking over here.
Now, to be truthful, the Times team did — high up in the story — mention at least one crucial topic other than the possible political implications of the Jesuit pope's trip.
When it comes to religion and demographics, Brazil is at the heart of dizzying, stunning changes in this region. Click here for an essential package of data from the Pew Forum on Religion & Public Life. A taste of that reality actually made it into this report: