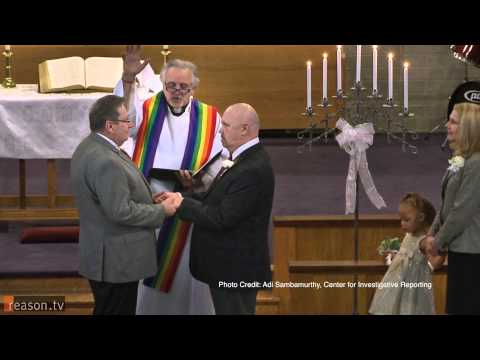 Amid talk of a possible schism over homosexuality, the United Methodist Church is back in the news.
On the heels of an exceedingly positive profile of Methodist gay-rights advocate Frank Schaefer, the Washington Post reported this weekend:
Hundreds of American pastors from the United Methodist Church have signed a proposal released Friday that aims to keep the global denomination of 12.5 million members from splitting over the issue of homosexuality.

It offers churches and regional bodies the option to make up their own minds on issues like affirming gay clergy and same-sex marriage.

The proposal, titled "A Way Forward," includes some prominent pastors, including Adam Hamilton, who leads an 18,000-member church in Kansas and delivered the sermon at President Obama's 2013 inaugural service, and David McAllister-Wilson, president of Wesley Theological Seminary in Washington.
The gist of the proposal, as described by the Post:
"The Church leaders that offer this proposal believe that the current debate is virtually irresolvable if left to the choices that the General Conference has been faced with recently. These leaders believe division would be shortsighted, costly, detrimental to ALL local congregations, and out of step with God's will," Friday's statement read.

"One side believes the 'practice of homosexuality' is incompatible with Christian teaching. That is what's written into the UMC Book of Discipline. The other side believes that scriptures related to homosexuality reflect the values of the time period in which scriptures were written more than the timeless will of God."
The response from those opposed to budging on homosexuality? More from the Post:
It wasn't possible to get immediate comment from the leaders of the traditional wing of the church, but the proposal came a few weeks after a group of conservative pastors issued a call of their own for "a way forward" that sounded more like a request to split.
It wasn't possible? Seriously, what does that mean? Would the traditional leaders not answer their phones? Did the Post get the story too close to deadline? (But give the Post credit for including after that paragraph the most recent statements from the denomination's traditional wing.)
In most of the reporting on debates such as this, you have one side pushing for something — such as compromise on the issue of homosexuality — and another side opposing it. To a large extent, that's the nature of news. At the same time, these debates — in real life — often are marked by as much gray as black and white.
With that in my mind, I found a Florida Today story this weekend refreshing in that it reflected the complexity of the discussion among many Methodists: