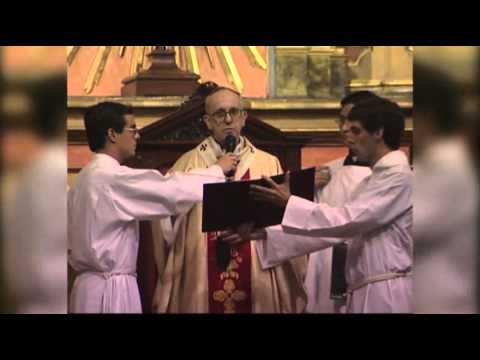 It's another great day to be a newspaper junkie who enjoys checking out front pages across the nation after major breaking news.
When tmatt saw the number of local reaction stories I planned to mention, he made me promise to keep this post under 5,000 words. I told him I'd hit the high points (and the low ones, of course).
Without further ado, I want to present a few nominees for limited-edition GetReligion awards for coverage of Pope Francis' selection.
Best use of "firsts" in a lede
It may take time before Seattle-area Catholics learn whether Pope Francis shares their views on specific issues. But many found things to like in the new pontiff Wednesday:

First pope from the Americas. First Jesuit. A man from a developing region and one who has chosen a humble lifestyle.

Their comments made it clear that the selection of Cardinal Jorge Mario Bergoglio of Argentina as the 266th pope turned a page in church's 2,000-year history.

"The whole school stopped for about an hour to watch this historic moment," said Father William Heric, chaplain at Eastside Catholic School in Sammamish.
First pope from this hemisphere. First Hispanic pope. First pope taking the name "Francis." North Texas Catholics grabbed on to facts Wednesday about the man who until that afternoon had been Archbishop Jorge Mario Bergoglio of Buenos Aries.

Josefina Flores of Arlington was in downtown Dallas with her daughter and heard the bells peal at the Cathedral Shrine of the Virgin of Guadalupe. They ducked into the sanctuary to say a prayer for the new pontiff.

"He comes from a spiritual country and he seems so charismatic," she said. "I have high hopes for him."
While Wednesday's election of a new pope may not have included the "first" that many St. Louisans were hoping for — namely, the election of Ballwin native Timothy Dolan as leader of the world's 1.2 billion Catholics — it did contain three others.

And that's not an easy accomplishment for a 2,000-year-old institution.

Cardinal Jorge Mario Bergoglio, 76, is the first pope in history to choose the name Francis, in honor of one of the most popular saints in history, Francis of Assisi.

"He selected for himself the name of Francis, which tells you a great deal about the new Holy Father," said St. Louis Archbishop Robert Carlson. "As you know, St. Francis was a man of simplicity and peace as he lived out the gospel. We can assume that our new Holy Father will do just the same."

Pope Francis is also the first Jesuit supreme pontiff in the church, and his chosen name could also be a nod to the great 16th-century Jesuit missionary, St. Francis Xavier — familiar to generations of St. Louis University students as the namesake of College Church.

"We're proud, as a Jesuit institution, that it was a Jesuit selected to be pope," said David Laughlin, president of St. Louis University High.

And, of course, Francis, until Wednesday the archbishop of Buenos Aires, is the first pope from Latin America.
Worst overgeneralized, unattributed statement
Bergoglio is seen as a leader who can bridge the divide between social liberals in the church and orthodox traditionalists; between the growing church south of the equator and the historical church of Europe; and between Jesuits, who are seen as more liberal, and conservative movements in the church.
— Atlanta Journal-Constitution
The new pope will find himself in a delicate balancing act, adhering to traditions on which the faith is based yet moving them forward to address critical issues such as transparency, trust, the role of women in the church and better handling of the sex abuse scandal. …

Few doubt that the church needs reform.
Though most people in Connecticut knew little about him before Wednesday, the election of Jorge Mario Bergoglio as the new pope filled the state's Roman Catholic community with hope for a different perspective in the Vatican.
Best use of a quotation in a lede