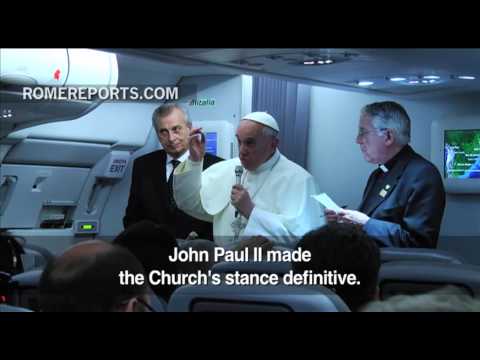 Sometimes, in this tricky world of media criticism, it's hard to pay attention to what someone said without focusing too much on which person, from what group, did the alleged media criticism.
So in this case, let's read some of the words in a specific op-ed essay before we get to the issue of who wrote them.
This is a short piece, so we can actually parse most of the actual contents. Let's begin at the beginning:
Not a day goes by without a pundit or editorial writer opining on what Pope Francis said about some controversial issue. While every pope, as well as every religious and secular leader, properly has his remarks subjected to scrutiny, Pope Francis is having his words sliced and diced far beyond anything his predecessors were accustomed to. Quite frankly, the goal of many commentators is to make the pope's statements appear to underscore their own ideological agenda.
Frankly, there is a lot of that going on out there. This is almost as big a problem on the right, when dealing with papal statements on, oh, capitalism (hello, Rush Limbaugh) as it is on the left (hello college of cardinals at The New York Times editorial pages). However, since the Times is much more important than Limbaugh, when talking about mainstream journalism, let's proceed on that tact.
Nothing excites the passions of those on the left today more than gay rights. Their obsession is shown with Pope Francis' comment, made over the summer, "Who am I to judge?" …

What Francis said was, "If someone is gay and he searches for the Lord and has good will, who am I to judge?" The difference between what he is quoted as saying, and what he actually said, is not minor. Those who parse his words agree, which is why they parse them. It is important to note that the pope did not offer two sentences: his one sentence was chopped to alter his message.
We will get to the full papal transcript in just a minute. However, based on my own reading of waves of coverage of this pope and this statement in particular, I believe that this is an accurate statement about how this one papal phrase is being yanked out of context.
Yes, the statement is important and, yes, the tone of the statement is important. But so is the content of the full quote.
Here is the paragraph of this op-ed that I thought would most interest GetReligion readers, especially those working in mainstream newsrooms: