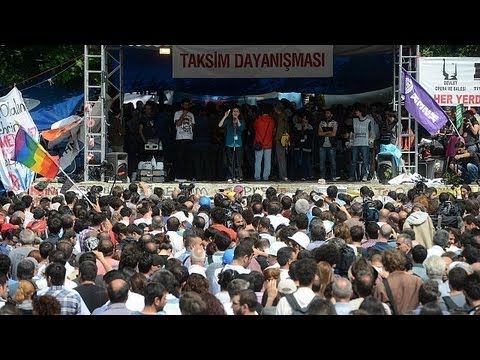 The coverage of events in Turkey roll on and on and the mainstream press continues to treat this as a simple clash between the moderate Islamic stance (whatever that means) of Prime Minister Recep Tayyip Erdogan and a hip, young, urban secular vision of at Turkey looking toward Europe and the future.
If only things were that simply.
The other day I dug into a very religion-free report in The Los Angeles Times (click here for a refresher).
The Times of the West followed that with a very similar piece that — once again — used a wide variety of labels, often attached to the undefined word "Islamist," without offering much information about the symbolism of the very battlefield on which this drama is unfolding. Here is one chunk of that second story that captures the flavor:
Erdogan is still very much in control, and few would venture that the crisis will bring him down, but the protests have hurt him politically and exposed misgivings within his party. Tear gas and water cannons have damaged Turkey's international image, upsetting the stock market and giving investors pause at a time when the once hyper-speed economy has slowed to about 3% annual growth.

The unrest also suggests that his blend of Islam and democracy is too restrictive for secularists, artists, activists and even working-class mothers who have turned out in Istanbul's central Taksim Square. Like Egypt's Tahrir Square two years ago, it has been transformed into an iconic, scorched patch of rebellion.

"Erdogan's vulnerability now is the secular middle classes that have risen against AKP governance. And that genie will not go back into the bottle," said Soner Cagaptay, director of the Turkish Research Program at the Washington Institute for Near East Policy. "This is a new dynamic in Turkish politics and this will challenge him on his urban renewal and foreign policy programs. So far, he has had an easy ride."
All the usual camps are mentioned. The big themes are all rooted in the present, with constant attempts to hook events to the other uprisings in the Arab Spring. But wait, the Arab Spring revolts have all pushed against corruption and in favor of a rising sense of Islamic identity. Is that what is happening here? Does the history of Turkey fit that template?
Wait, Turkey has a unique history?
So what is missing from this story?