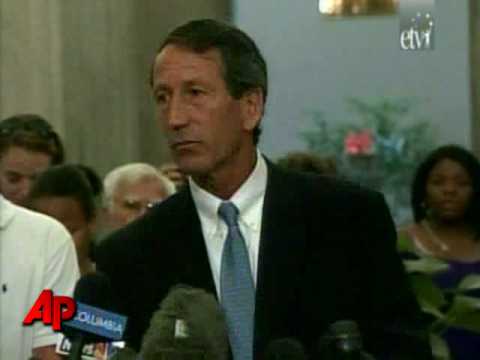 God — and South Carolina voters — decided Tuesday to give disgraced former Gov. Mark Sanford a second chance.
At least that's the impression left by news coverage of the state's most famous adulterer, who won back his old seat in Congress with 54 percent of the vote.
The war-size headline on the front page of The State in Columbia, S.C.:
SANFORD WINS REDEMPTION
The Associated Press used a similar headline:
MARK SANFORD REDEEMS CAREER, HEADING TO CONGRESS
God figured heavily in Sanford's victory speech, with Yahoo News! noting that Sanford said he wanted to "publicly acknowledge God's role in this." (God was unavailable for comment, and I can't say I blame him.)
I am pretty certain Sanford was referring to God's alleged role in his election victory — as opposed to a role in Sanford carrying on a secret affair with an Argentine mistress, to whom he's now engaged after his divorce from the mother of his four children.
Here's how AP quoted Sanford way up high:
"I am one imperfect man saved by God's grace," the Republican told about 100 cheering supporters Tuesday after defeating Democrat Elizabeth Colbert Busch to win back the 1st District seat he held for three terms in the 1990s. "It's my pledge to all of you going forward I'm going to be one of the best congressmen I could have ever been."
Later in the story, AP included more religious language from the former governor: