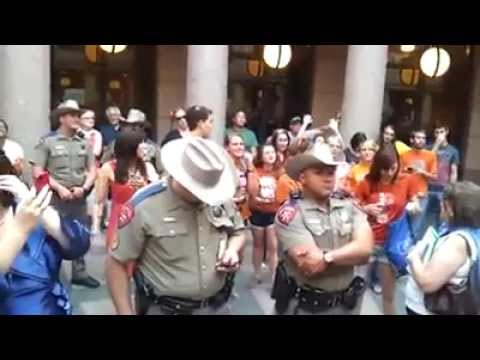 Over the past decade, more and more hoops fanatics have decided that ESPN is ruining college basketball and even the development of young players in the NBA.
What does this have to do with that horrid Associated Press story (original text still online at The Washington Post) about the Susan B. Anthony List fundraising dinner? Hang on. I promise I will get to that shortly.
That anti-ESPN theory states that young hoops gods are now so interested in getting their slam dunks and fancy passes into the ESPN Top 10 plays of the day that they are failing to develop their skills in other crucial elements of the game. They want that bright moment on video and, in the long run, it's hurting their cause.
Now, that's what I think was going on with those pro-abortion-rights supporters last year in Austin, the ones who started chanting "Hail, Satan!" in an attempt to drown out the people who were singing "Amazing Grace" at their rally in favor of equal rights for unborn females (and males too, for that matter).
Obviously, the "Hail, Satan!" folks were not holding a religious ritual. They were trying to get into the top plays of the day on Comedy Central or MSNBC or something. Right? They were trying to be cool, edgy and ironic — while shouting down people singing "Amazing Grace." It was an abrasive one-liner, an attempt at an in-your-face rhetorical slam dunk.
Anyone can see what was going on, right? I mean, you can see what was going on it you are interested in the facts of the matter, if you care about journalism and if you were willing to run one Google search and look at the videos on YouTube, etc., etc. Can I get an "amen"?
This leads us to the original lede on that now-infamous AP report:
WASHINGTON – Calling their opponents Satan worshippers and savages, anti-abortion lawmakers on Wednesday insisted that Republican contenders keep an intense focus on social issues in the upcoming midterm elections and the 2016 presidential race.

Like many abortion opponents, the Susan B. Anthony List is in search of a White House contender who won't shy from social issues after back-to-back presidential nominees in 2008 and 2012 who focused their campaigns on the economy and came up short. Several potential 2016 candidates were making their pitches in blunt terms, urging the group members to stick to their principles and fight those who would stand in their way.
Now, GetReligionista emeritus M.Z. Hemingway has already ripped this travesty to shreds over at The Federalist and linked it to the disturbing AP trend of serving up advocacy journalism when covering issues linked to abortion.
That's a must read, so go read it. Here's her final point: