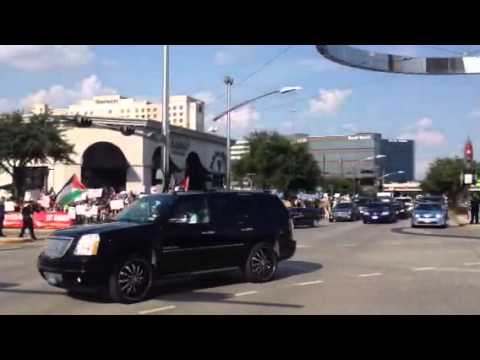 I'm no expert on the fighting in the Gaza Strip.
In fact, I'm typing this post with trepidation — hoping not to say something entirely stupid (yes, that's a weekend softball for all my snarky friends).
But seriously, I offer the above caveat before critiquing a front-page story in today's Houston Chronicle on dueling rallies by thousands of demonstrators:
Westheimer was the dividing line Friday as the Palestinian-Israel conflict played out in feuding but peaceful demonstrations on a busy Houston intersection near the Galleria usually populated with shoppers.

In the pro-Palestine rally, about 2,000 people seen lining both sides of Post Oak had the largest and loudest presence with chant leaders on bullhorns proclaiming: "Free, free Palestine, occupation is a crime."

Hundreds of demonstrators on the other side, closer to the Galleria, waved blue and white Israeli flags and were flanked by a large banner that declared: "We fight Islamic terror."
The Chronicle story is about 700 words — not a lot of space but typical of a daily newspaper report.
But the reporter manages to pack a lot of information into the concise account, quoting an equal number of demonstrators on both sides and including some specific religious details: