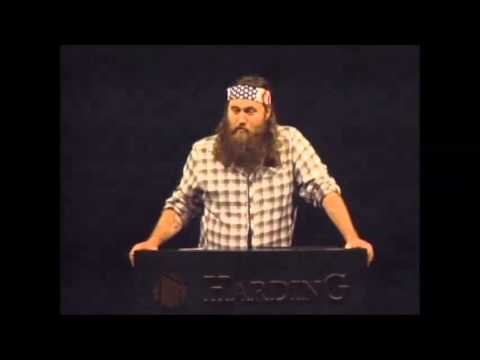 The Tennessean had a story this weekend that made me "happy, happy, happy."
In a March post titled "Duck, duck, goose: Media miss faith angle on 'Duck Dynasty,'" I complained about the media's failure to get religion in its coverage of the Duck Family Robertson. Ever shy about touting my own stories (not), I referred to the "Faith, family and ducks" piece I wrote for The Christian Chronicle.
Well, as a leading newspaper in the heart of the Bible Belt should do, the Nashville daily nailed the faith angle (and Godbeat pro Bob Smietana wasn't even the one wrote the story). It's also the lead story at this moment on Gannett flagship USA Today's home page.
Let's start right at the top:
It took only days for famed Florida Gators quarterback Tim Tebow to sell out a Nashville lecture at Lipscomb University in 2010.

"Duck Dynasty's" Robertson family did the same thing this year. Only they did it three times over.

They're so popular, Lipscomb has to have one of their appearances for the Don Meyer Evening of Excellence in the afternoon.

Friday night marked at least the third time since December a member of the popular A&E reality-show clan took a Nashville stage to spread hunting tips and their brand of "happy, happy, happy" Christianity, to steal a phrase family patriarch Phil Robertson made popular. He'll speak again this afternoon and tonight with wife Kay and brother Si.

Their third-season finale Wednesday set an A&E series record with nearly 10 million viewers. More in the Nashville market watched "Duck Dynasty" than any other show that day, said Mark Binda, program and research director for WTVF-Channel 5.
I'll acknowledge that I'm not entirely "happy, happy, happy" with the reference to "happy, happy, happy" Christianity because I think some readers could misconstrue it and link the Robertsons to prosperity gospel theology, which I don't believe they preach.
But I like that The Tennessean explores the religion behind the Robertsons' appeal: