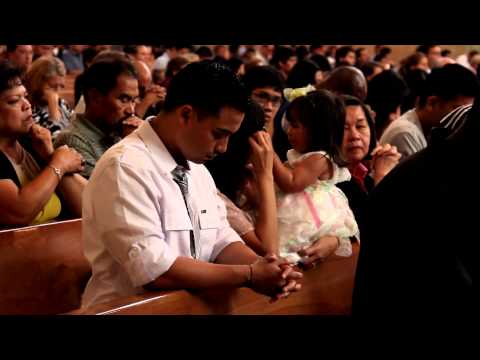 Yes, Cardinal Roger M. Mahony of Los Angeles will be in Rome and will vote in the process to select the next pope. In fact, as part of his social-media campaign against his critics, he plans to tweet whenever and wherever Vatican officials will let him get his hands on a keyboard.
Meanwhile, I am still following, with great interest, the mainstream media's attempts to describe Mahony's starring role in the North American Church and, especially, his approach to Catholic life and doctrine, which has for decades made him a figure of some controversy. Click here, for some background information related to this topic, especially the contrasting personalities of Mahony and current Archbishop Jose H. Gomez.
Both supporters and critics of Mahony would agree that, to understand the cardinal's legacy, one has to wrestle with the history of the giant Religious Education Conference held in Los Angeles. Simply stated, it has long been a symbolic gathering of the progressive leaders of American Catholicism.
Thus, The New York Times dispatched a team to cover this year's event. Here is some summary material from the resulting report to set the stage:
… This is a defining moment for Archbishop Gomez, who took over from Cardinal Mahony two years ago and is universally described as low-key and quiet, particularly compared with his predecessor. His public rebuke of Cardinal Mahony stunned observers not only for its content, but because the normally mild-mannered archbishop would react so swiftly and dramatically. …

Now, many see this as a first turn in the spotlight for Archbishop Gomez. Cardinal Mahony was known for marching in public rallies, cultivating allies in politics and Hollywood and an almost larger-than-life public persona. By contrast, Archbishop Gomez has only rarely appeared in the press over the last two years. He declined to be interviewed for this article and his staff declined to allow a reporter into the Religious Education Congress without an escort.
Once again, Mahony is described merely in terms of style, while Gomez receives both a style nod and, later on, an accurate theological label.
But here is the passage in this lengthy story that caught my eye:
Many here questioned whether Archbishop Gomez, a theological conservative shaped by his membership in the movement Opus Dei, would move quickly to undo Cardinal Mahony's more liberal policies, like appointing women and lay people to powerful positions and supporting a robust AIDS ministry. But two years after taking the reins, he is often praised for not acting along ideological lines and has made changes only slowly. Last year, for example, he changed the name of the Office of Justice and Peace to the Office of Life, Justice and Peace. …

For many, Cardinal Mahony has long been a lightning rod in the church. He has deep wells of respect among Latinos, largely because of his role as a champion for immigrants. But traditionalists resent him for his liberal stances.
Now the key to this story is that the Times never appears to have actually interviewed any conservative Catholics in order to learn why they considered Mahony to be a liberal in the church. Instead, as is often the case, readers are given that reference to his "appointing women and lay people to powerful positions and supporting a robust AIDS ministry."
Well, that's interesting.