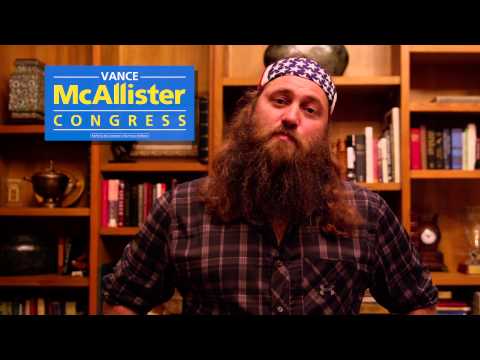 As I've shared before, I spent a few years of my early childhood in West Monroe, La., where my dad attended the White's Ferry Road School of Preaching.
That now-defunct school was operated by the White's Ferry Road Church of Christ, now known nationally as the home congregation of the Robertson family of "Duck Dynasty" fame. Through my work with The Christian Chronicle, I remain in touch with a number of White's Ferry Road church leaders and members.
Given my personal connection, national news out of Louisiana bayou country tends to catch my attention. The latest headlines involve Congressman Vance McAllister, who ran on a Christian family values platform but got caught in a compromising video with a woman who is not his wife. (I met McAllister's predecessor, Rodney Alexander, several years ago when he caught a ride on a private plane that the White's Ferry Road church's disaster relief ministry chartered to assess Hurricane Katrina damages.)
The brouhaha over McAllister prompted this Facebook post by my good friend John Dobbs, who preaches for the Forsythe Church of Christ in Monroe, La., across the Ouachita River from West Monroe:
I'm embarrassed for Vance and his family, sorry that he made some choices that have caused a lot of pain. I realize he lives a very public life. But we are all sinners, and I wonder how any of us would feel to have our sin video taped and put up for all the world to see? Vance needs to work that out with God and his family. He is working in a culture of adultery in Washington D.C. (does anyone doubt that?) and I pray that he can restore his family and keep his guard up.
Dobbs' post generated lively feedback about sin, forgiveness, politics and media coverage, including this response from Keith Roberts, minister and elder of the Calhoun Church of Christ, east of West Monroe:
I'm disappointed. I like Vance and thought he would bring a bit of 'fresh air' to the process. Instead — more of the same.

And the aftermath of this incident isn't about forgiveness (any of us can fall quickly) but about leadership.

A man who's unwilling to keep the most fundamental promise in his life will have trouble keeping his word in other areas (I've always wondered why people didn't see that in Bill Clinton's case).

I need to pray for Vance & his family.
Overall, that Facebook discussion was serious and respectful in tone. Differences of opinion were evident. But each side was fairly represented. Believe it or not, I felt the same way about a New York Times story this week on how McAllister's northeast Louisiana district is reacting to the scandal.
From the top of the NYTimes report:
WEST MONROE, La. — As she handed out garbage bags on Saturday as part of an anti-litter drive, Patsy Edmondson drew a parallel to Louisiana's history of tawdry politics.

"If we grow up in litter, we accept it," she said. "If we grow up with this kind of politician, we accept it." Rolling her eyes, she said both were learned behaviors. "We're trying to teach our children it costs us money to be dirty."

Ms. Edmondson's congressman, Representative Vance McAllister, is the latest Louisiana official facing demands for his resignation, after a leaked video last week showed him passionately kissing a woman who was not his wife.

After winning an election pledging to "defend our Christian way of life," Mr. McAllister now faces accusations of hypocrisy as thick as spring mosquitoes on the bayou. Gov. Bobby Jindal, a fellow Republican, has called on him to step down, and the state Republican chairman labeled him "an example of why ordinary people are fed up with politics."
A quick aside: What do you think of "hypocrisy as thick as spring mosquitoes on the bayou?" Clever or cliche?
Keep reading, and the NYTimes provides this background: