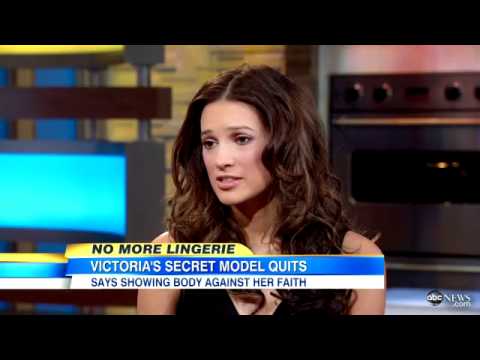 At first glance, the current mini-wave of news coverage of former underwear model Kylie Bisutti is nothing more than a chance — in this search-engine-driven world in which we live — to slide the mouse-click friendly terms "God" and "Victoria's Secret" into the same headline.
Not that there's anything wrong with that.
On closer inspection (no, honest), this is actually a story that asks journalists the mainstream media to cover three surprisingly serious subjects.
First of all, it's about a young woman's second thoughts about the ethics, including moral and health concerns, of working in the racier corners of the fashion industry. Second, it's about her realization that she was playing a starring role in a mass-media culture that teaches young girls to view their bodies as hot commodities. Third, there is a strong religious component to this story, since she began to worry about the impact of her risque modeling gigs on her marriage and her faith.
All of this led to the publication of an overtly Christian book entitled "I'm No Angel," by a major evangelical publishing house.
Now, does anyone want to take a guess which of these three subjects seems to be receiving the least attention — in terms of information reported — from the mainstream press? Here is a hint: It's the "why" in that old-school "who, what, when, where, why and how" journalism formula.
Surprise.
However, God did make it into the lede, and the video feature, in this Huffington Post mini-story. Just to be fair, here is the whole report:
Former Victoria's Secret model Kylie Bisutti stopped by HuffPost Live Wednesday and opened up about her decision to quit modeling to protect her marriage and her relationship with God.

Bisutti told host Alicia Menendez that while her husband never asked her to stop modeling, she did feel that her flirtatious model persona hurt his feelings.

"He did not [ask me to stop modeling], he was very supportive. He just prayed, and his prayers have been answered," Bisutti said.

She also said that God spoke to her during her modeling career, telling her to leave the industry because she "wasn't being the right kind of role model."
Details? That's not what this story is about, is it?
Over at The Daily Beast, the first and second subjects received pretty serious attention. Also, it's significant that the biblical contents of her kiss-off tweet made it — sort of — into the lede: