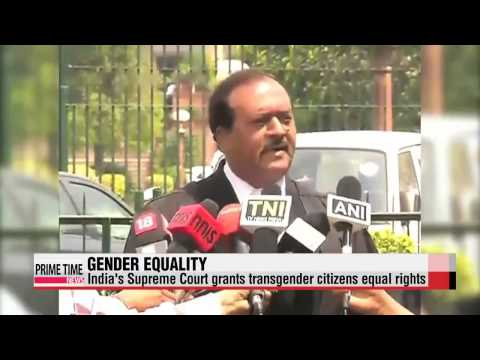 Is it possible to write intelligently about sex in the non-Western world for an American media audience? Or, is our culture so narcissistic, so incurious, so parochial that a newspaper would be wasting its time in attempting to explain the difference between our world view and their's?
A recent spate of articles in the American press about Tuesday's decision by the Indian Supreme Court creating a "third gender" under law prompted these musings. Stories in the Washington Post and MSNBC about the Indian court ruling are so slanted for an American audience (and these outlet's particular audiences) that there is but a tenuous link between their reporting and reality.
The pro forma MSNBC story begins:
Transgender people in India no longer have to categorize themselves as "male" or "female" in official documents. India's Supreme Court issued a landmark ruling Tuesday that allows hundreds of thousands of transgender people to identify themselves as a third gender. Human rights groups are lauding the decision as historic and groundbreaking.
The article follows a standard formula for legal news and provides snippets from the decision.
"It is the right of every human being to choose their gender," the court wrote. "Recognition of transgenders as a third gender is not a social or medical issue but a human rights issue," Justice K.S. Radhakrishnan, one of the two head judges on the Supreme Court bench, told the court.
The article notes what the implication of the ruling might be:
The high court has ordered the government to allocate public sector jobs to transgender people, known as "hijras" and include them in welfare programs.
And also offers comments from a high profile transgender activist and refers to arguments made in the brief. It then offers political and legal context to the ruling and closes with a word of hope from the LGBT community.
While India now recognizes the transgender community as a third gender, the ruling only applies to transgender people and not gays, lesbians or bisexuals. In December, the Supreme Court reversed a 2009 court order that decriminalized homosexuality, reinstating a ban on gay sex. India's general elections will be held on May 16, and LGBT rights activists hope the new parliament will repeal the anti-gay law.
All in all the structure and tone of this story is what one would expect of an MSNBC story about an American court decision on transgender issues. Voices opposed to the ruling would have provided balance and developing the apparent contradictions between this latest ruling and the December 2013 ruling criminalizing gay sex would have been welcome.
Yet, this is not a story about America, but India. And the American left-liberal model, with all of the assumptions implicit in that world view, does not work.
First off, can we assume that an American transgendered person is the same as an Indian transgendered person, or what the article calls a hijra?