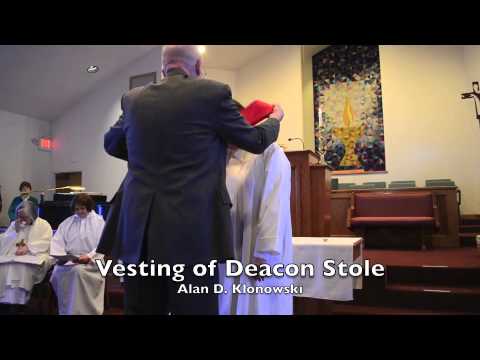 To be honest with you, I feel like taking a short break from the Vatican beat — sort of. I predict news from Rome sooner rather than later. You think?
In the meantime, let's flash back a bit to a recent post in which I praised The Toledo Blade for a better than average story on the WomenPriests movement (and better than average is not, alas, saying a whole lot).
The WomenPriests movement is, of course, is the latest in a long, long, long line of Catholic splinter churches built on extra-legal ordinations that can usually be traced to rites allegedly performed by anonymous bishops, splinter Old Catholic rites, or both. From the viewpoint of the Catholic Church, these women are simply liberal Protestants and, like it or not, the Vatican is in charge of determining who is and who is not a Catholic priest.
So what did the Blade do that drew our mild praise? It offered the following statement of the facts at the top of its report:
Deacon Beverly Bingle, a 68-year-old Roman Catholic woman from Toledo, will be ordained a priest by Roman Catholic Womenpriests today.

Her ordination at 2 p.m. at First Unitarian Church of Toledo, 3205 Glendale Ave., will not be recognized by the Diocese of Toledo, however. After she was ordained a deacon on Sept. 13, the diocese stated her participation "in an invalid and illicit attempted ordination" meant she was automatically excommunicated from the Roman Catholic Church.
Now, recall that I noted that the movement is formally called the "Roman Catholic Womenpriests," which means the newspaper was right to pass along the claim of authority present in its name. However, the Blade also immediately noted that the Womenpriests deacon was, in fact, no longer a Catholic at all, according to the laws of the Catholic Church. The Womenpriests determine who is a Womenpriests priest and the Catholic Church determines who is a Catholic priest, in communion with Rome. That's the facts of the matter.
So, it is important to note that the Blade followed this story to its liturgical end and covered the rites at First Unitarian. How did that turn out?
The basic facts, once again, were pushed to the top of the story:
More than 100 people were in the pews Saturday when Roman Catholic Womenpriests ordained the Rev. Beverly Bingle of Toledo a priest, an act not recognized by the Roman Catholic Church.

Ann Klonowski of Independence, Ohio, was ordained a deacon at the same ceremony at First Unitarian Church of Toledo.

Seventeen women from Roman Catholic Womenpriests, including ordained priests, deacons and a bishop, as well as candidates and applicants for ordination, stood at the end of the service to show their numbers.
Once again, that's the basic facts of the matter.
This is where things get rather interesting.