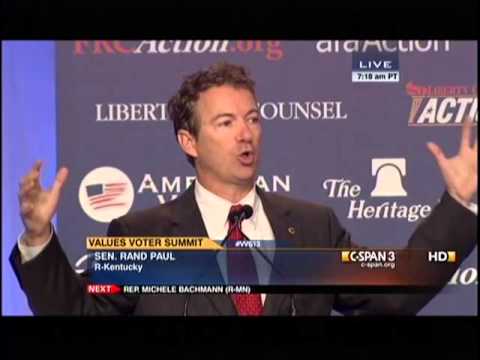 A Washington Post Politics news blog on Senator Rand Paul's appearance before the Value Voters Summit in Washington last week has left me perplexed. Reading the article entitled "Rand Paul: 'There's a worldwide war on Christianity'"tells me little about what the Kentucky senator said.
Nor am I clear as to what a news blog is for. Is it a vehicle for a reporter to express an opinion about the news, or does this new format permit a newspaper to increase the amount of news stories without having to invest the time and manpower in producing original copy?
Perhaps it was the editorial decision of the Post that what Sen. Paul said was less important than the symbolism of his presence at the meeting of conservative religious activists. Maybe it was fueled by a desire to score points against Paul through irony. It did, however, work very hard in not reporting what the Kentucky senator said nor offering context to his remarks. The headline tells us there is a war on, but does not say who is fighting.
The article begins:
There's a war raging against Christianity, but the attackers must police themselves, says Kentucky Sen. Rand Paul (R).

"From Boston to Zanzibar, there's a worldwide war on Christianity," the world's most-practiced religion, he said Friday at the Values Voters Summit, an annual conservative gathering. The intensity of attacks is so high, he later added, that it's "almost as if we lived in the Middle Ages," a period that included the Crusades.
Who is waging this war against Christians? Two paragraphs into a five paragraph story we are not told. In the third paragraph we learn the problem is militant Islam, and the solution lies in moderate Islam taking responsibility for their radical kin. Pushing this key fact to the midway point of the story is questionable.
As is the irony. What does the line about the Crusades mean? It is standard Islamist agitprop to blame the crusades for the ills of the Muslim world and its subsequent history of military aggression, and to harken upon the crusades as a dastardly attack on peace loving Muslims by blood thirsty Christians. Some will push this line along with claims that jihad has nothing to do with war against the nonbeliever — nothing to see here folks. Pay no attention to the fact that Islamic jurisprudence holds the doctrine of jihad demands that the "House of Islam" (Dar al-Islam) must subdue the "House of War" (Dar al-Harb, the non-Islamic world). What ever could that mean?