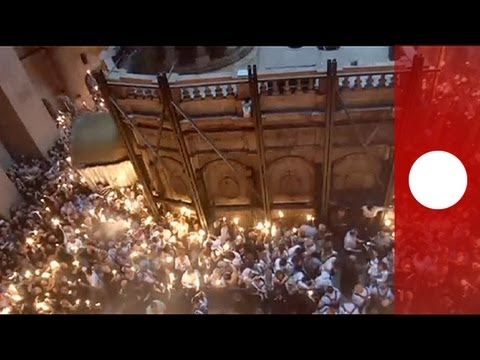 A blessed Pascha to the Orthodox readers of GetReligion. I hope you are recovering from the long, but glorious, week of services and the middle-of-the night rites and feasts. Personally, I think it is high time for a post-Great Lent barbecue run — soon.
In terms of Pascha news, I, for one, am stunned that a quick online search found next to nothing in terms of mainstream media coverage of what is, or is not, happening in Syria and Egypt — where there are are huge, endangered communities of Eastern Christians in the middle of the news events. Maybe tomorrow's newspapers?
Here in America, I am also seeing/hearing discussion among some Orthodox of President Barack Obama's interesting official statement marking Pascha. On one level, it's quite solid, and much appreciated. But on another level — maybe not. Here's the heart of the message:
For millions of Orthodox Christians, this is a joyful time. But it's also a reminder of the sacrifice Christ made so that we might have eternal life. His decision to choose love in the face of hate; hope in the face of despair is an example we should always strive to follow. But it's especially important to remember this year, as members of the Orthodox community have been confronted with persecution and violence, particularly in the Middle East and North Africa. For centuries, the region and the world has been enriched by the contributions of Orthodox communities in countries like Egypt, Lebanon, Syria, and Iraq. As a nation, we reaffirm our commitment to protecting universal human rights including the freedom of religion. And in this season of hope and restoration, we celebrate the transformational power of sacrificial love.
Now, other than a direct reference to the resurrection itself (which is a hard thing for a liberal Christian political leader to discuss), what is missing from this statement?
How about something specific about an unfolding drama in Syria, one involving the kidnapping by terrorists of Orthodox Bishop Paul Yazigi — the brother of Antiochian Orthodox Patriarch John X Yazigi of Damascus — and Bishop Yohanna Ibrahim of the Syriac Orthodox Church? It's good to mention the generalities, but an actual call for the release of the two kidnapped bishops might have actually made news. Would that have rocked the U.S. State Department boat too much?
Meanwhile, the newspaper that lands in my front yard offered a quite nice Orthodox-angle Easter story that, as usual, focuses on Greek Orthodox life. Now, let me stress that the Greek Orthodox community in the Baltimore area is large and very important. It deserves coverage. However, the team at The Baltimore Sun seems to think that the Greek community and the Orthodox community are one and the same thing. This is not the case.
Anyway, Orthodox readers, check out the top of this story and tell me if you spot an interesting detail, or two (and I'm not talking about the fact that this particular Orthodox church has pews):