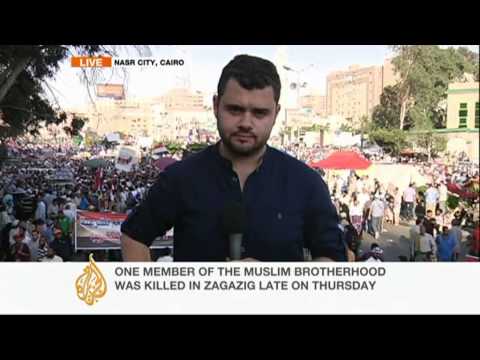 Many GetReligion readers have, I am sure, spent some time today following the urgent news bulletins out of Egypt, where some of the largest protests in the history of the world have been taking place.
It's hard to know, precisely, what is happening — because there are so many different groups involved in the coalition that is revolting against the nation's first democratically elected leader.
As I write, this is the latest from The New York Times:
CAIRO – Egypt's top generals on Monday gave President Mohamed Morsi 48 hours to respond to a wave of mass protests demanding his ouster, declaring that if he did not, then the military leaders themselves would impose their own "road map" to resolve the political crisis.
Most reports earlier in day pivoted, as usual, around one crucial, but still undefined word — Islamist. It's clear that religion is playing a crucial role in these events, but mainstream journalists continue to struggle when it comes time to define the differences between the goals and the beliefs of the competing Muslim camps in Egypt.
For the most part, journalists are saying this is a battle between liberal secularists and the Islamists symbolized by the Morsi and the Muslim Brotherhood.
Now, these liberals — are they Muslims? What are the beliefs that define them and separate them from Morsi & Co.?
How about the military leaders — are they Muslims? They represent the old guard, which offered its own approach to Islam. What defined that version of Islam?
And Morsi, of course, leads a group that, only a month or two ago, was being called the "moderate" Islamist party — since the Salafi Muslims are to the president's cultural and theological right. At some point, will the Salafists turn on Morsi? If so, what are the defining beliefs and policies that separate these two camps?
Then there are various religious minorities who play a crucial role in Egyptian life, led by the Coptic Orthodox Christians (who, with other Christians, make up about 10 percent of the population).
That's a pretty complex landscape. Yet in the main Los Angeles Times story today, readers are — once again — told about a simple contest between secular liberals and Islamists, with the military (religious affiliations, unknown) looming in the background. Here is a key slice of that:
The battle for Egypt lies between these two poles, divided by sectarianism and driven by economic despair. These emotions were evident at anti-Morsi protests in Tahrir Square and the presidential palace, and amid prayer rugs and open Korans carried by Morsi loyalists in front of one of Cairo's main mosques.

"Egypt is our country, the land of the Nile that carries us all, and it's our duty to protect it without violence or committing assaults," Coptic Orthodox Pope Tawadros II, whose Christian minority has been increasingly persecuted by Islamists, said on Twitter. "The blood of every Egyptian is precious, please participate, but respect others."
And that is pretty much that.
The New York Times team, led by the omnipresent David D. Kirkpatrick, briefly attempted to hint at divisions INSIDE the Islamist world, cracks and schisms that clearly are threatening Morsi and the future of his government. Here is some crucial material more than halfway into the summary story earlier in the day: