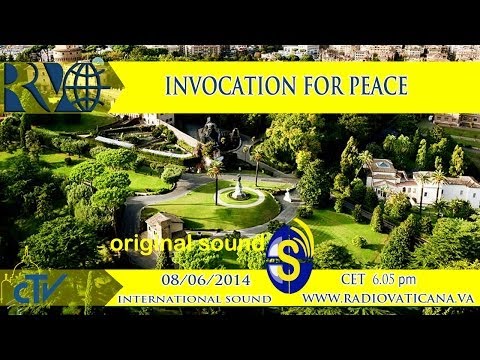 Let's state this in journalistic terms.
What? You thought that the mainstream journalists covering the remarkable Vatican rite offering prayers for Middle East peace rite would actually produce coverage that included any content from the prayers?
Friends and neighbors, this event was all about politics and statecraft. Clearly, if the men wanted to produce real change in the real world then the only words that they spoke that mattered were addressed to one another and, thus, to the press. Get real.
The story that most American news consumers saw this past weekend was from the Associated Press, so let's consider that text (in the version used by The Washington Post). Here's some of the key material about this encounter between Pope Francis, Israeli President Shimon Peres and Palestinian President Mahmoud Abbas:
The event had the air of an outdoor summer wedding, complete with receiving line and guests mingling on the lawn as a string ensemble played. …

Vatican officials have insisted that Francis had no political agenda in inviting the two leaders to pray at his home other than to rekindle a desire for peace. But the meeting could have greater symbolic significance, given that Francis was able to bring them together at all so soon after peace talks failed and at a time that the Israeli government is trying to isolate Abbas.

"In the Middle East, symbolic gestures and incremental steps are important," noted the Rev. Thomas Reese, a veteran Vatican analyst for the National Catholic Reporter. "And who knows what conversations can occur behind closed doors in the Vatican."
So was the omnipresent Father Reese actually, literally at this event or was he merely acting in his unofficial role as the press spokesman for all mainstream journalists and alleged Catholic insiders who would join him in calling a Vatican prayer service a "symbolic gesture"?
No one was hiding the fact that other talks took place behind closed doors. Also, no one was hiding the fact that, with the Orthodox Ecumenical Patriarch Bartholomew I joining in some parts of the ceremonies (but not leading prayers), there were actually two participants present who represented elements of the Palestinian people. Well, the pope would make three, since there are Eastern Rite Catholics in the region, as well. The AP report noted: