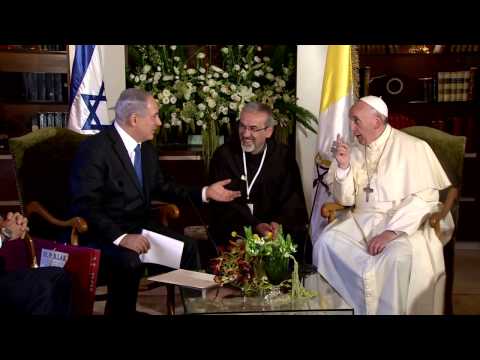 So, did the pope and Israel's prime minister have a rancorous exchange in Jerusalem over the topic of Jesus' mother tongue?
One thing is certain: Headline writers had a field day with the "spar", as Reuters characterized the encounter. Was it a "spat," as per The Chicago Tribune? Did they "publicly bicker" as per The Age of Melbourne? Did Francis "correct" Netayahu, as Time reported? Or was the National Post  correct in calling it a "quibble"?
Commentators were quick to jump. I've seen a fair number of anti-Semitic comments on Facebook, as well as anti-Catholic ones (I move in mixed circles), that denounce Francis or Netanyahu with vigor.
Aslan Reza tweeted his views:
Carolyn Glick of The Jerusalem Post noted the political ramification of the remarks, placing them in the context of what she saw as a failed papal visit that set back Catholic-Jewish relations.
In one of his blander pronouncements during the papal visit, Netanyahu mentioned on Monday that Jesus spoke Hebrew. There was nothing incorrect about Netanyahu's statement. Jesus was after all, an Israeli Jew.

But Francis couldn't take the truth. So he indelicately interrupted his host, interjecting, "Aramaic."

Netanyahu was probably flustered. True, at the time, educated Jews spoke and wrote in Aramaic. And Jesus was educated. But the language of the people was Hebrew. And Jesus preached to the people, in Hebrew.

Netanyahu responded, "He spoke Aramaic, but he knew Hebrew."

Reuters' write-up of the incident tried to explain away the pope's rudeness and historical revisionism, asserting, "Modern-day discourse about Jesus is complicated and often political." The report went on to delicately mention, "Palestinians sometimes describe Jesus as a Palestinian. Israelis object to that."

Israelis "object to that" because it is a lie.
Setting aside the politics of the Middle East and inter-faith realtions, when it comes to the reporting on the interchange between pontiff and prime minister Yair Rosenberg of The Tablet has the story. Offering a cross section of headlines that painted the exchange in tense or harsh tones, Rosenberg wrote: