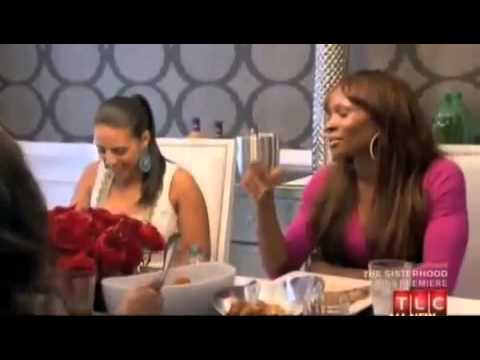 I know, I know. "The Sisterhood" is a reality television show about pastors' wives.
I know, I know. That piece on the Style page at The Washington Post — "'The Sisterhood' is more religious entertainment than reality TV" — is primarily a review of this alleged fact-based reality show, not a true news feature about a serious issue in church life.
What we are talking about, of course, are the glass houses in which most clergy families live. This is delicate, serious territory.
All that aside, I actually would like to praise this Post piece for noting several serious holes in this oh-so-unreal reality show.
However, GetReligion readers will not be surprised to learn that the article does not spotlight the fact that the show is — despite focusing on the lives of Atlanta-area preachers' wives — almost completely lacking in content about the beliefs of these women or the practice of their faith.
Right up front, readers are told:
"The Sisterhood" is a new reality show on TLC about pastors' wives in Atlanta. The city is the spiritual home of Martin Luther King Jr.'s ministry and the show promises a rare window into the lives of several "first ladies."

So far — we're four episodes in, halfway through the inaugural season — a pastor has given his spouse a pair of handcuffs, a first lady has pointed out the first house where she smoked crack and there's been a nice chat about sexually transmitted diseases.

Can we get a fan in the first pew? This is so not mama's sweet hour of prayer.
More on those handcuffs in a minute, since that's a rather important plot twist that gets mangled.
The key is the whole National Geographic-explores-strange-people approach that is given to what the creators see as an exotic and mysterious niche culture in American life. Right, this is a land in which pastors, priests, rabbis, imams, etc., are out of the mainstream.
So what, precisely, is the edgy Bible Belt niche explored in this series? That's where the key racial and doctrinal elements come to the forefront, creating heat and controversy:
None of these first ladies are at major denominational churches, such as Baptist, Catholic, Episcopalian or Methodist. Instead, they're all at what are loosely known as "prosperity churches," with names like the Oasis Family Life Church, Emmanuel Tabernacle, Work with Wonders and The Good Life Ministry. Two of the couples were between churches during filming.
Actually, "Episcopalian" is a noun and the adjective form of this word is "Episcopal," but never mind. Let's continue, since is the point where the Post team offers some serious information to readers. This is the heart of the report: